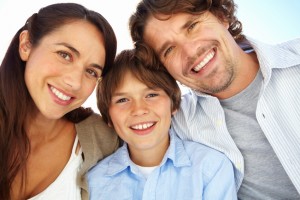 Hey there, and welcome to Alamo Springs Dental's new blog! We're so excited to unroll this in January — because what better time is there to consider improvements than the New Year? At Alamo Springs Dental, we know you're thinking about how you can live healthier and happier in 2016, and we want to help you do just that. That's why we think it's a good idea for our inaugural blog post to be a simple snapshot of all the wonderful services you can find from your 78254 dentist!
Your neighborhood dentist provides experienced care in 78254
As your trusted family dentist in Stillwater Ranch, Alamo Springs Dental — that's Dr. Moreno, Dr. Anderson and their passionate team — brings you the services you need, with the caring, compassionate approach you want.
Alamo Springs Dental is proud to offer exceptional care in the following areas.
Preventive dentistry is key to a happy smile
Every excellent dentist knows the most important thing is always prevention. That's why Drs. Moreno and Anderson prioritize six month checkups and cleanings, x-rays and other vital screenings and treatments, including:
Oral cancer screenings

Treatment for gum cancer, or periodontal therapy

Pediatric care
Restorative dentistry puts your teeth back on track
When decay or damage affect your formerly healthy teeth, restorative dentistry performed by an expert hand comes to the rescue. The team at Alamo Springs Dental is highly experienced in the most common treatments, like fillings, crowns and bridges and root canals — as well as more specialized procedures, too. Those include:
Dental implant restoration
Cosmetic dentistry turns healthy teeth into a beautiful smile
Once your teeth are as healthy as can be, we know the next step is making them dazzle. At Alamo Springs Dental, we're proud to offer our patients a variety of services in cosmetic dentistry. They include:
Teeth whitening

Porcelain veneers

Tooth-colored fillings

All-ceramic restorations
And when you least expect it, we're your emergency dentist too
There's no planning for emergencies. When a broken tooth, severe toothache or other urgent dental situation pops up, you'll feel comforted knowing you can count on the team at Alamo Springs Dental to take care of the problem quickly and effectively! Because when an emergency pops up, you deserve better than to wait in pain.
Need a dentist who cares? Give us a call today!
When you're ready to experience the difference having an experienced, compassionate dentist can make, please don't wait to contact Alamo Springs Dental. We are located in San Antonio and proud to serve patients from Balcones Heights, Helotes, Alamo Ranch, Stillwater Ranch, Castroville, Bandera, Leon Valley, Alamo Heights, Grey Forest and beyond with top dental care.