Periodontal (Gum) Disease Treatment – Alamo Ranch, TX
Protecting Your Smile
At Alamo Springs Dental, our team takes periodontal disease seriously. During your routine check-ups, Dr. Aiyana Anderson and Dr. Michele Moreno will be sure to keep an eye out for tell-tale signs and diagnose your condition as early as possible to minimize damage. Should signs be present, you may need to undergo periodontal therapy in Alamo Ranch, TX. We can also provide revitalizing treatment for patients from Helotes, Balcones Heights, Alamo Heights, Alamo Ranch, Stillwater Ranch, Castroville, Bandera, Grey Forest, Leon Valley, and beyond.
Why Choose Alamo Springs Dental for Periodontal (Gum) Disease Treatment?
Bacteria-Busting BioLase®
Dental Laser
Thorough Checkups
& Cleanings
Enhanced Imaging
With Intraoral Camera
Scaling & Root Planing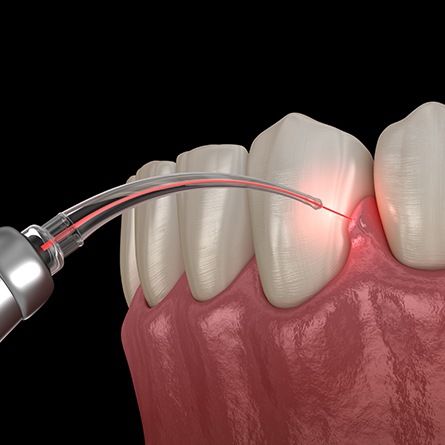 If you're experiencing signs of gum disease, such as bleeding gums when you brush or floss or inflammation, then we may suggest scaling and root planing. It's a two-step process where we will begin by clearing all plaque and tartar accumulation from the surface of your teeth. We'll then use our BioLase® dental laser to gently remove bacteria from the pockets of your gums. Finally, we'll smooth out the roots of your teeth, allowing your gums to healthily reattach and protect them from further harm.
Laser Periodontal Therapy
For more serious cases of gum disease, where you have infected gum tissue that is best treated by being removed, we'll use our Blue Wave Soft Tissue Diode Laser. It uses a blue-aiming light beam to allow us to precisely sculpt your gumline, removing any severely damaged gum tissue so you're only left with healthy tissue. This is a tissue-preserving, regenerative, and bone-building procedure that we use to help get your oral health back on the right track.
Antibiotic Therapy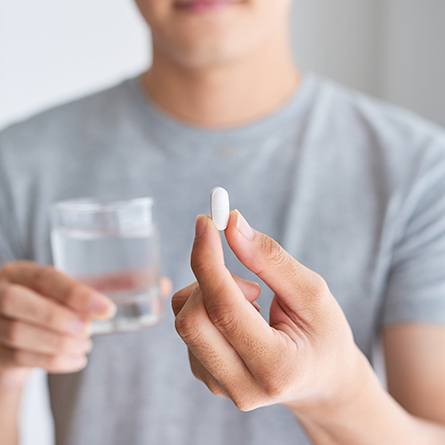 Depending on your individual case, we may decide to use antibiotic therapy in combination with deep cleaning or soft tissue therapy. Antibiotics can be administered in pill form or as a topical gel and are designed to kill off any bacteria as well as preserve your gum tissues and reduce the likeliness for additional tooth loss.
What is
Periodontal Therapy?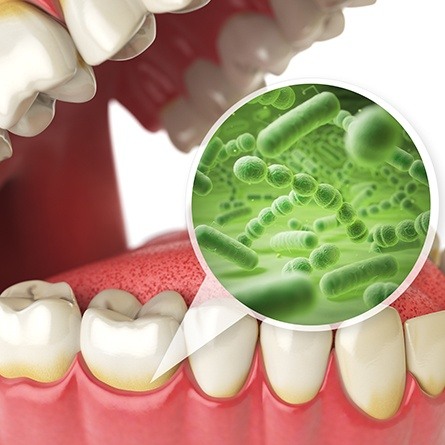 Periodontal therapy is a system of safe and effective methods of treatment used to combat the effects of periodontal disease. As plaque and tartar build, it begins to attack the gums, resulting in redness, inflammation, and bleeding when brushing or flossing. If the infection escalates and creates gum pockets, it will be necessary to undergo periodontal therapy to stop the spread of infection and improve gum health.
Signs of Periodontal Disease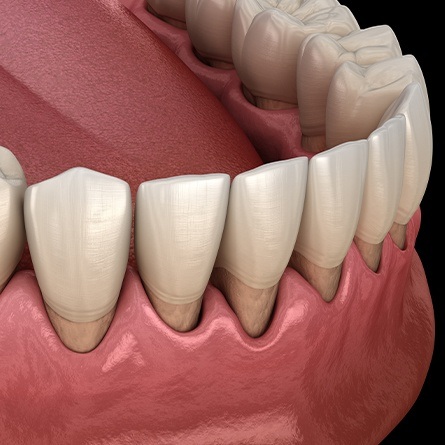 Gums that feel exceptionally tender or look exceptionally swollen and red
Oral bleeding that happens often when brushing/flossing
A change in the way your bite fits together
Bad breath that persists even after brushing/flossing
A gum line that's receding (your teeth appear longer over time)
There are also common risk factors that patients should be aware of, including:
If you regularly smoke and/or use tobacco
If you're 65 or older
If you regularly take certain medications, including oral contraceptives or anti-depressants
If you suffer from bruxism/TMJ and regularly grind your teeth
If you suffer from certain systemic health issues like diabetes
If you've undergone treatment for cancer
Of course, it's important to remember that in some cases, the presence of periodontal disease may be exceptionally subtle or even unnoticeable to untrained eyes in its earlier stages. That's why regular appointments at a trusted dental office are so important for your oral health and happiness. We'd love to welcome you here in San Antonio, TX!
Periodontal Disease
Therapy & More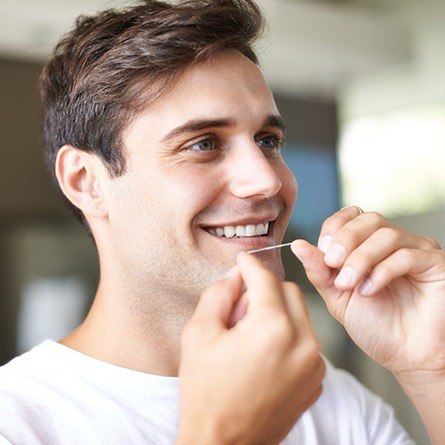 Once Dr. Anderson or Dr. Moreno has determined that you're suffering from periodontal disease, our recommended treatment will depend on the severity of your condition. In mild cases, a more diligent oral homecare routine or more frequent hygiene appointments at Alamo Springs Dental could be enough to treat damage and restore your oral health. If the progression of the disease is more moderate to severe, periodontal maintenance will become necessary, including an in-depth cleaning known as root scaling and planing. If surgical care is needed, we'd be happy to recommend you to a nearby specialist.
Cost of Periodontal Therapy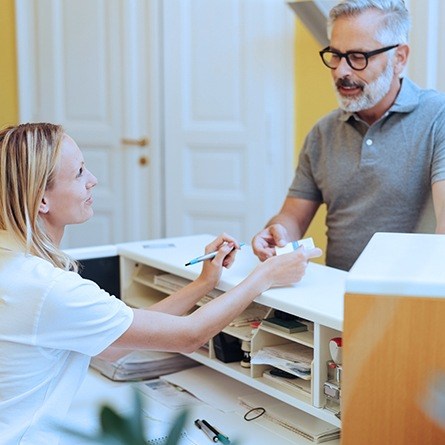 There are different factors that must be considered when attempting to determine how much periodontal therapy will cost. These include:
The severity of your periodontal disease
The stage in which your periodontal disease is in (i.e. gingivitis, periodontitis, advanced periodontitis)
The method of treatment used (i.e. soft tissue therapy, antibiotic therapy, scaling and root planing, regular cleanings)
How often you'll be coming in for periodontal therapy
Sedation
It's always best (and most cost-effective) if you are able to treat periodontal disease in its early stages, so if you suspect you are exhibiting any of the signs or symptoms associated with gum disease, make sure to contact us as soon as possible.