Veneers – Alamo Ranch, TX
Enhance Your Smile
with Veneers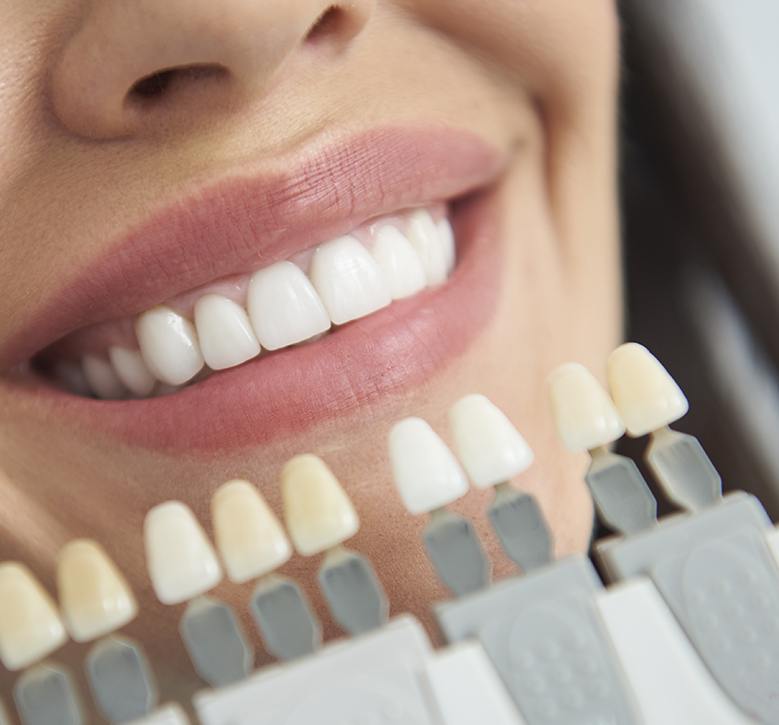 When it comes to pursuing cosmetic dental work, many patients feel overwhelmed by the multiple procedures they may need to undergo to achieve the results they're dreaming of. Wouldn't it be so much easier if you could transform your smile all at once? Thankfully, porcelain veneers can help patients accomplish just that. These custom-made, wafer-thin pieces of finely crafted dental porcelain are designed to cover certain teeth in your smile under a new, flawless appearance you'll feel proud of. Feel free to contact Alamo Springs Dental today if you like to learn more, or if you're ready to schedule your first appointment with Dr. Aiyana Anderson or Dr. Michele Moreno. We love welcoming patients from Helotes, Grey Forest, Balcones Heights, Alamo Ranch, Stillwater Ranch, Castroville, Bandera, Leon Valley, Alamo Heights, and beyond.
Why Choose Alamo Springs Dental for Veneers?
Stain-Resistant
Dental Porcelain
Fix Several Cosmetic
Imperfections At Once
Can Repair One
or All Teeth
The Porcelain
Veneers Process
Typically, veneers require two appointments at our San Antonio, TX location. During the first, one of our doctors will take the time to learn more about what you hope to accomplish with veneers and what kind of aesthetic changes you want to make. Then, we'll remove a small amount of natural enamel from your front teeth and capture impressions that will be sent to a trusted laboratory. You'll wear a temporary veneer we will provide in the meantime. Once the finished product is available, you'll return to Alamo Springs Dental so that we can place your veneer and make any necessary adjustments.
Benefits of Choosing Porcelain Veneers
Veneers can correct a wide variety of smile issues, including dental stains, discoloration, chips, cracks, fractures, misaligned teeth, gaps, and much more.
If patients are unhappy with the size, shape, or length of a certain, Dr. Anderson and Dr. Moreno can typically use veneers to correct the issue without any additional treatment needed.
Orthodontic treatment can require months, even years to create the beautifully straight smile you deserve. Veneers can correct mild to moderate alignment and spacing issues in a dramatically faster timeframe.
The quality porcelain of veneers closely matches your natural teeth, creating an aesthetically pleasing and seamless appearance you'll feel great about.
As long as they're cared for properly with regular maintenance and oral hygiene, veneers can last up to 15 years or longer.
Veneers are actually more resistant against staining than your natural enamel, which allows you to maintain your improved look even longer.
Understanding the Cost of Veneers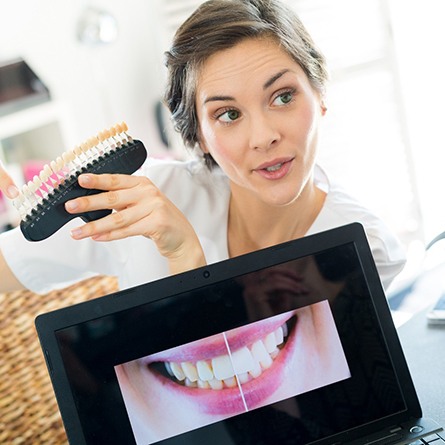 When it comes to changing the appearance of your smile, you cannot go wrong with veneers. These thin, shell coverings that fit over the surface of your teeth help to hide an array of imperfections, giving you that Hollywood look you've always wanted. However, if you're curious about the cost of veneers in Alamo Ranch, you must understand that no two cases are alike, and your treatment may cost much more or much less than someone else. As you contemplate how you would like to transform your smile, you should make sure that veneers are the appropriate treatment for you. With so many options available at different price points, it's important you weigh your options to ensure you make the right decision.
Cost vs. Cosmetic Dentistry: What's Right for Me?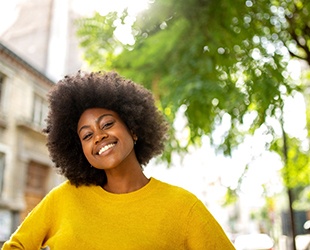 At Alamo Springs Dental, you will find there are many different cosmetic dental treatments available, each at a different price:
Veneers: While it is true that veneers in Alamo Ranch are more expensive than other cosmetic solutions, they can be placed in 2-3 appointments and provide a permanent solution to hide your imperfections.
Metal-Free Crowns: While veneers may only cover the front surface of your teeth, metal-free crowns cover the entire tooth. However, this isn't likely to be the most cost-effective option if you're wanting to treat multiple teeth, as it takes time to create the crowns. You'll also lose more of your tooth structure by having crowns placed because your cosmetic dentist in Alamo Ranch will need to "prep" each tooth to ensure a proper fit.
Teeth Whitening: Teeth whitening is certainly a popular choice if stains and discoloration are all you're concerned about. Cheaper than veneers, the one important thing to remember is that it only whitens your teeth. It cannot change the shape or size of your tooth.
How to Make Veneers Affordable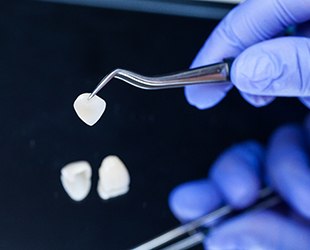 Our team at Alamo Springs Dental understands that when it comes to cosmetic dentistry, it can be rather costly. Since most dental insurance companies do not provide coverage for these types of services, it is necessary that you identify an alternative way to pay. The good news is that our team can help you find affordable solutions to help keep your out-of-pocket expenses low. A few of the options we offer include:
In-House Loyalty Program – If you're uninsured, our in-house loyalty plan is a great way to get the treatment you need (and want) for a much lower price. For one, low annual fee ($50 per individual, $30 for each family member in the same household), you will receive basic dental care as well as discounts on various services offered. This means there are no annual deductibles, maximums, or waiting periods.
CareCredit Financing – Flexible financing is always an option if you are uninsured or need to break up the cost of your cosmetic treatment. We can help you apply for a low or zero interest payment plan that allows you to make monthly installments toward the cost of your veneers.
Veneers FAQs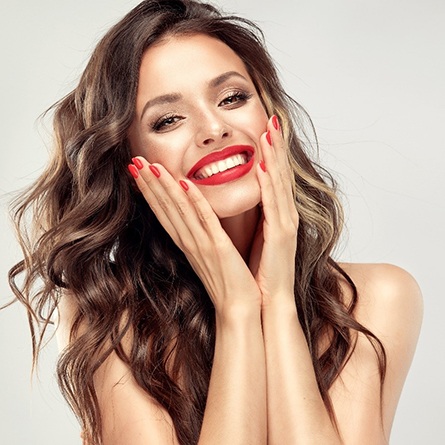 Are you committed to having veneers in Alamo Ranch cover your tooth imperfections? If so, congratulations! This decision will positively change your life. Apart from the transformational aesthetics you can expect, you'll also enjoy the functionality and longevity these customized restorations can provide. But before you take the next step in your cosmetic journey, allow our team to address a few of the most common questions concerning veneers. Below is a list you can review. Should you have any additional questions, please don't hesitate to contact our office.
What happens to teeth underneath veneers?
The teeth that exist beneath your veneers contain natural tooth enamel, which means they are capable of developing decay and cavities. Although the front surface of your teeth is covered by your custom-made restorations, the backsides remain exposed. It is imperative that you maintain optimal oral hygiene while wearing veneers to avoid any harmful oral health problems, such as decay, cavities, and gum disease.
Can I drink coffee with veneers?
The materials used to create veneers are not porous like traditional tooth enamel, so it's unlikely that drinking coffee will cause stains. However, if you consume too much of it over a period of time, it is possible that your veneers will become less vibrant and duller. It is advised that you either drink your coffee in moderation or use a straw to limit the exposure between your teeth and liquid. The best solution is to simply not drink any coffee.
Can you whiten veneers?
Unfortunately, veneers cannot be whitened. There is nothing within the porcelain that will allow bleaching agents to penetrate and change, which is why it is strongly suggested that you have your teeth whitened before receiving dental veneers. Your cosmetic dentist in Alamo Ranch can ensure the brightness of your smile before placing veneers, as this will ensure a balanced appearance from the start of your treatment.
If you have your veneers placed before whitening your teeth, you may develop an uneven aesthetic.
Who is not an eligible candidate for veneers?
Most individuals are considered good candidates for dental veneers; however, if you possess any of the following, you'll need to undergo preliminary treatment before receiving your customized restorations:
Dental Cavities: Although veneers cannot develop cavities, the natural tooth enamel that is exposed certainly can. If decay or cavities are present, you'll need to have them treated before receiving any type of cosmetic dental treatment.
Teeth Grinding (Bruxism): Grinding your teeth may not be something you realize you're doing, but once your dentist reviews your smile during your consultation, it will be evident as to whether you have bruxism. As a result, you'll either need to seek an alternative form of cosmetic treatment or commit to wearing a cushioned oral appliance when sleeping to prevent chipping your veneers.
Gum Disease: If gum disease is evident, there is a possibility gum recession could occur. This can cause a gap to appear between the veneer and gum line, making your cosmetic work look fake and unnatural.