Dermal Fillers – Alamo Ranch, TX
How do dermal fillers fit in at Alamo Springs Dental?
Filler treatments placed in areas where volume has been lost to prevent infection and inflammation between the lips. This condition is refered to as, Angular Cheilitis.
Why Choose Dermal Fillers?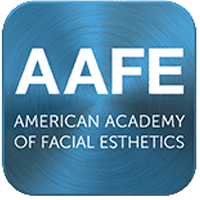 Dr. Anderson has a Doctor in Medicine in Dentistry degree from the University of Louisville and has been practicing dentistry in San Antonio for over 12 years. Since 2020, Dr. Anderson has expanded her education to include written and hands-on training through the American Academy of Facial Esthetics, an American Dental Association, CERP (certified continuing education recognition program) continuing education program.
Dr. Anderson is an Associate Member of the American Academy of Facial Esthetics with over 20 hours of continuing education in Botox, Filler and TMJ pain.
How Long Will This Last?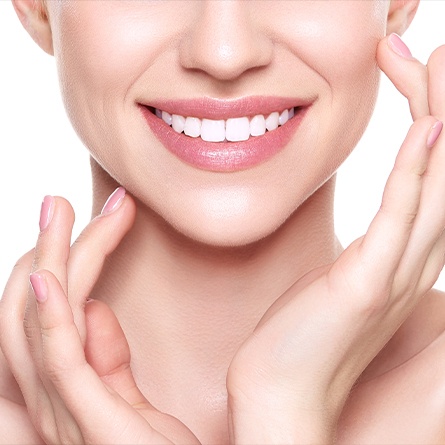 For lip fillers, because your lips move frequently and are very vascular, you can expect results for up to 3- 18 months depending on the area, patient metabolism and activity level.
Examples of Angular Cheilitis.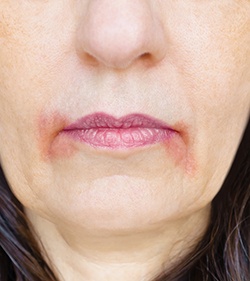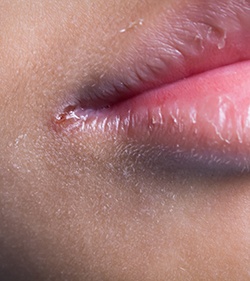 At Alamo Springs Dental, we can treat Angular Cheilitis for our patients. This can be treated with dermal filler, botox or a combination of both. You can see results from as early as day 1, however; it will take 1- 2 weeks to fully see the final results.At your consult we will discuss your goals, and after the first 8-10 days, we will meet again for an enhancement visit where we can review the results of the initial appointment for dermal fillers in Alamo Ranch.
How Do I Take Care
of My Lips?
Actual Patient Treated For Angular Cheilitis
It is important that you DO NOT touch or lay down on your face/lips for 4-6 hours. Prior to treatment, drink plenty of water and keep your lips hydrated. The day of the treatment, please do not wear any makeup in the area of the injectables. Expect swelling, but results can be immediate! You will see final results 4-14 days after the injectable has been placed. Severe pain or numbness with Intense bruising with sluggish blood flow, can be a sign of a vascular compromise, a very serious condition. ALERT THE DOCTOR ASAP.
Avoid: hot liquids by mouth for the first 24hrs, sun bathing, heavy exercise, avoid alcohol 24 hrs before and after injections, avoid anything that could encourage you to pucker your lips for 24 hrs, avoid anti-inflammatory drugs-( Ibuprofen, Naproxen, Advil, St. John's Wort, Fish Oil, Vitamin E, Flax Oil and others) for at least 3 days to 1 week before and after treatment. Please let us know if you have been specifically directed by a physician to take any of these regularly so that a medical consult can be obtained from your primary physician.
Discontinue Retin- A 2 days before and 2 days after treatment
Discontinue use of cigarettes 2 days before and 2 days after treatment
Avoid Alcohol, caffeine 24 -28 hrs before and after treatment.
What are the Risks?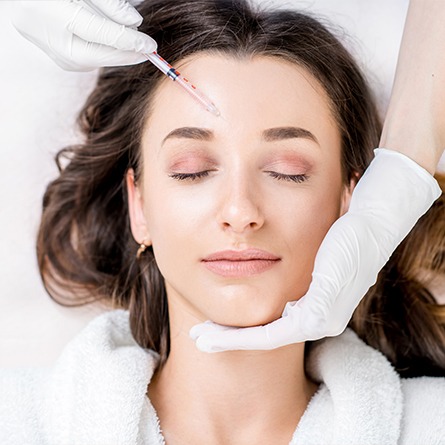 We don't want to use this on patients that have severe allergies, so please be honest with the doctors and complete your medical history. Nothing is risk free. Risks can include post treatment discomfort, swelling, redness, bruising, and discoloration. Post treatment injection infections, Allergic reaction, reactivation of herpes, lumpiness, visible yellow or white patches, granuloma formation, localized necrosis and sloughing with scabbing. This procedure is not advised in women that are pregnant or lactating. The risk for swelling and scarring does exist in people susceptible to keloids. Make sure your face is clean in the areas administering filler.
Read Our 5-star Reviews
"I came in with extreme headaches and now with the process of botox they're completely gone. It was extremely easy and no pain. It completely helped me all the way around, physically and mentally. I guarantee it helps you so so much in every way! Dr. Anderson tells you step by step on about the whole process. What you're going to go through, whats going to happen and what to expect, as well the results. She even gives you her phone number to call her! Its important to me because I feel better."
Esmerelda
Actual Patient
"My experience with Dr. Anderson was a lot easier than I thought it was going to be. I also think that it was a lot less painful than I was expecting as well. So was the healing process, it was very fast. I had a very positive experience and I would 100% recommend anyone to the practice for dermal fillers. I think they would definitely benefit just as much as I did!"
Kim
Actual Patient