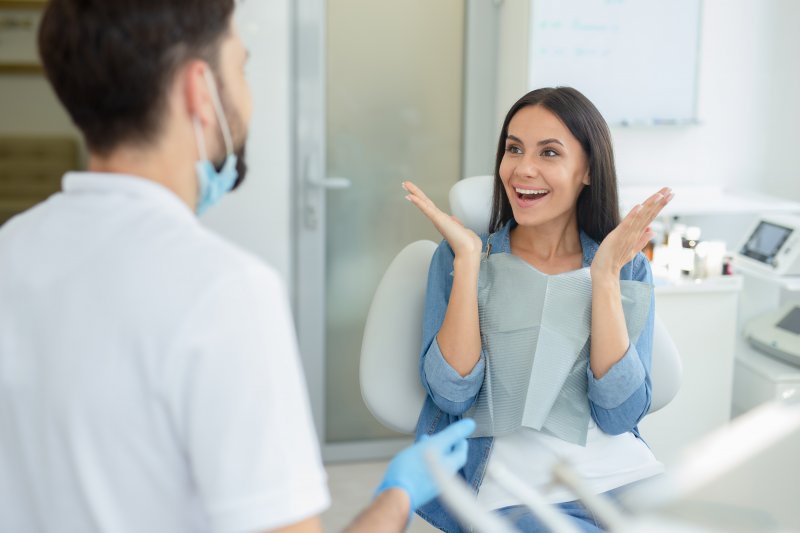 If you're the kind of person who likes to start fresh each year, complete with a list of resolutions, why not start the year off right with dental checkups and screenings? Because the mouth and body are closely interconnected, keeping your teeth, gums, and overall oral health in optimal condition is vital to prevent additional health problems in the future. If you're ready to take charge and commit to improving your smile and well-being, read on to learn why regular checkups and screenings are so important.
Why are Regular Checkups Beneficial?
Everyone who visits a dentist knows there are a checkup and cleaning involved. After the dental hygienist removes any harmful plaque and tartar from your gums, they thoroughly clean your teeth to give you a nice, polished finish. All of this is done before your dentist stops by and examines your smile. While both parts of your visit are equally as important, the time your dental professional spends reviewing your oral cavity is absolutely necessary. Here's why:
During the checkup portion of your appointment, your dentist will check for any abnormalities or problem areas of your smile. Combining what is shown on your digital x-rays with what can be seen on the surface during a visual examination, should they find something that is cause for concern, immediate action will be taken to formulate a treatment plan. This is crucial to catching and stopping various dental problems before they occur or worsen (i.e. tooth decay, gum disease, oral cancer).
Why are Oral Cancer Screenings Important?
As part of your dental checkup, your dentist will perform an oral cancer screening. You may be entirely unaware that it is happening because it is quick and painless, but it is also incredibly important. The reason is that thousands of people in the United States are diagnosed with oral cancer each year, and many will die because of its progressive attack on the body. This disease takes more lives than those with cervical cancer, Hodgkin's lymphoma, or even endocrine system cancers.
Why is it so deadly? The reason so many people die from oral cancer is that it is detected and diagnosed at a later stage, which is why oral cancer screenings are a crucial part of any dental checkup. Early detection is key to treating and curing oral cancer, and as your ally, your dentist can spot various signs and symptoms that are often associated with the disease, such as:
A lump within the mouth
White or red patches
Hoarse voice
Earache
Difficulty swallowing or chewing
Sore throat
During the screening process, your dentist will inspect the soft tissues of your mouth as well as palpate your jaw and neck for any lumps or swollen areas. Should they find anything that is troublesome, the next step will be to have a biopsy performed before moving on to diagnosis and treatment.
Don't let 2020 slip by without seeing your dentist. Your oral and overall health deserve proper treatment and care, so why not take the next step and schedule your next appointment today? After all, it could just save your life.
About the Author
Dr. Michele Moreno believes in the importance of preventive care. As a dentist at Alamo Springs Dental, she has dedicated her career to helping others achieve a better quality of life with a healthier, fully restored smile. Dr. Moreno earned a Bachelor of Science in biochemistry from Angelo State University in 2001, graduating magna cum laude. She then went on to earn her Doctor of Dental Surgery degree at Helotes's University of Texas Health Science Center. For questions or to learn more about our services, contact us at (210) 463-9339.