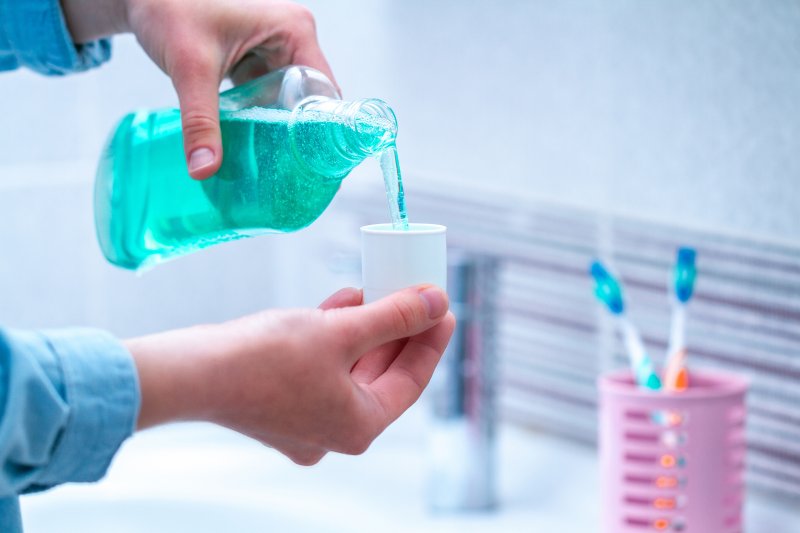 Brushing and flossing are great ways to minimize harmful bacteria within your mouth, but did you know that rinsing with an antimicrobial mouthwash also has many great benefits? Whether you're accustomed to using one of the many products on the market to flush out left-behind particles or you are new to the idea of rinsing out your mouth, your dentist in Alamo Ranch strongly recommends this step before arriving for your dental appointment. Spend some time reading the following article to learn how mouthwash can keep you and others safe amid the COVID-19 (coronavirus) pandemic.
Can Mouthwash Kill the COVID-19 Virus?
No, an antimicrobial mouthwash cannot kill the COVID-19 virus. No matter the brand, you should know that mouthwash has not been tested against COVID-19 and is not a recommended method of treatment to combat the virus. However, just because it cannot eliminate the coronavirus doesn't mean it can't kill other harmful bacteria.
How Can Mouthwash Minimize Germs and Keep Me Safe?
On average, mouthwash consists of 20% alcohol. Although it is not strong enough to eliminate germs on surfaces and/or your hands, it is effective at killing almost 100% of germs that can lead to bad breath, plaque, and gingivitis.
So how can this help me during the COVID-19 pandemic?
As more and more dental offices reopen and begin to see patients for elective treatments and regular checkups and cleanings, everyone must do their part to keep themselves and each other safe. One way to do this is by brushing, flossing, and rinsing before your dentist's appointment.
If you have gum disease, there is a good chance that your immune system is weak and is having a difficult time fighting off infection. As a result, this makes you more vulnerable to contracting other viruses, one of which may be COVID-19.
However, if you do not have gum disease and want to avoid this common dental problem altogether, rinsing your mouth with an antimicrobial mouthwash will minimize the number of germs, protect your gum health from possible damage, and help you maintain a healthier smile and wellbeing. This is especially true among older generations, as they may have a harder time brushing and flossing.
By incorporating this step into your regular oral hygiene routine, not only will your smile look and feel healthier, but you will be taking an additional step to keep your mouth free of harmful germs and bacteria and, in turn, protect others around you.
About the Author
Dr. Michele Moreno believes in the importance of preventive care. As a dentist in Alamo Ranch who offers family dentistry services, she has dedicated her career to helping others achieve a better quality of life with a healthier, fully restored smile. Dr. Moreno earned a Bachelor of Science in biochemistry from Angelo State University in 2001, graduating magna cum laude. She then went on to earn her Doctor of Dental Surgery degree at Helotes's University of Texas Health Science Center. To find out what steps you should take before arriving for your dental appointment, contact us at (210) 463-9339.