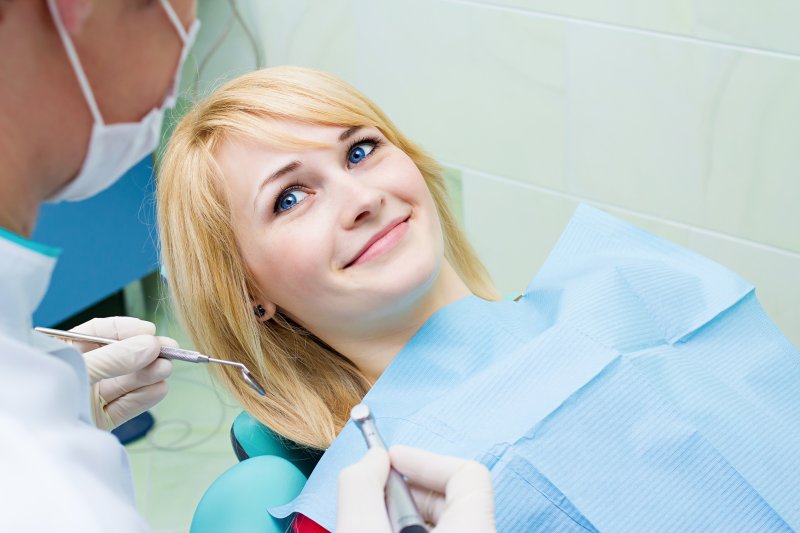 Have you asked yourself, "Why are 6-month checkups important in Alamo Ranch?" It's doubtful you're alone in asking that question, but let us assure you, there are many reasons you should adhere to this common timeline. From cavities to gum disease, there are many reasons your dentist wants to see you twice a year for a checkup and cleaning. Find out what you can expect during these appointments and what problems can be avoided by keeping your dental visits a priority.
What Happens During a Typical Checkup?
During a typical checkup, your dental team will escort you back to have digital x-rays taken, if necessary. Then, a dentist will thoroughly examine your teeth, gums, bite, and other areas of your oral cavity. Not only will this allow them to look for tooth decay, cavities, and gum disease, but it also ensures there are no signs of oral cancer.
Combining what cannot be seen by the naked eye with a careful examination of what exists above the gum line, your dentist will be able to formulate a personalized treatment plan should any problems be present.
What Happens During a Dental Cleaning?
Apart from the dental checkup, your six-month visit will also include a cleaning. Performed by a highly skilled dental hygienist, they will measure your gum pockets to make sure the depth is not at an unhealthy range. Next, they will begin to remove any plaque and tartar build up around the gums and teeth to prevent the development of gum disease. Using specialized tools, an in-depth cleaning performed by your dental team will make sure any harmful substance living on or between your teeth is removed safely and effectively.
Finally, after flossing and polishing each tooth, you will notice a significant difference in the way your mouth feels.
What Problems Can Be Avoided with Twice a Year Visits?
Tooth decay and gum disease are two of the most common problems dentist see on a daily basis. Millions of adults in the United States don't even know they have a form of gum disease until it's too late, and young children are often prone to developing cavities at an early age because of their novice oral hygiene skills.
Regular six-month visits can help to eliminate problems before they start or least stop the progression before it worsens. If you think your teeth and gums are in good shape and don't need to bother with a regular visit to the dentist, here are a few other problems they can catch during these appointments:
Oral cancer: Around 50,000 are estimated to be diagnosed with oral cancer in 2019, and nearly 10,000 will die from the disease. Early detection is crucial to treating and curing the disease before it spreads.
Teeth grinding: If your dentist notices excessive wear and tear on your teeth, they might ask about possible teeth grinding or clenching. If this is happening, it might be necessary to wear a mouthguard at night while you sleep to prevent further damage.
Restorations: Have you had a filling or porcelain veneers placed? Anytime you have restorative services, it is necessary that you maintain regular dental appointments to allow the dentist to check for any chips or cracks to ensure the object is still functioning as it should.
Don't blow off your next dental appointment. There's a reason it's recommended you stick to the six-month schedule, and it is because problems can develop fast and progress quickly, so instead of trying to find an excuse to reschedule, take the time to see your dentist and give your oral health the treatment it deserves.
About the Author
Caring for her patient's smiles, Dr. Michele Moreno believes in the importance of preventive care. As a dentist at Alamo Springs Dental, she has dedicated her career to helping others achieve a better quality of life with healthier, fully restored smile. Dr. Moreno earned a Bachelor of Science in biochemistry from Angelo State University in 2001, graduating magna cum laude. She then went on to earn her Doctor of Dental Surgery degree at Helotes's University of Texas Health Science Center. For questions or to learn more about our services, contact us at (210) 463-9339.