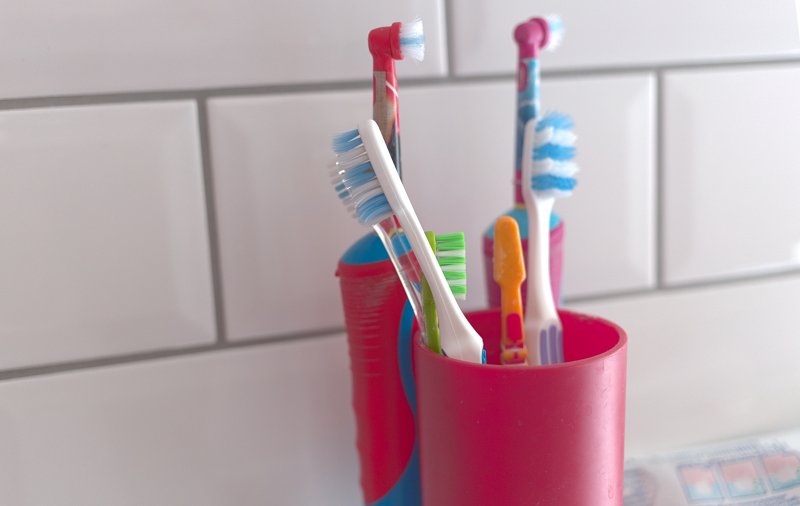 Do you regularly clean your toothbrush holder in Alamo Ranch? If you're like most people, the answer is probably "no." Unfortunately, this particular item as well as others in your bathroom can create harmful bacteria that can negatively impact your oral health. Hear from a local dentist who explains which objects you should take the time to thoroughly clean if you want to avoid tooth decay, gum disease, and bad breath.
Your Toothbrush Holder
You may be surprised by this, but your toothbrush holder is a breeding ground for bad bacteria. You might assume there is no way it can attract that many germs, but the truth is that it can contain yeast/mold, coliform (includes Salmonella and E. Coli.), and staph aureus, which can cause an infection to occur. To minimize the potential of harmful particles reaching your holder, it is best never to share it with someone else.
When cleaning, which should be done at least once a week, make sure to rinse it out with hot water before using a small bristle brush to clean the inside if it has slots for your toothbrush. Then, you can fill it with an antibacterial mouthwash before letting it sit for several minutes. Finally, make sure to use clean water to rinse it out and let it dry.
The Bathroom Hand Towel
Think about the following scenario: You go to the bathroom and wash your hands. Depending on how well you clean them, you immediately reach for your hand towel to remove any excess water. Next, you pick up your toothbrush and perform your morning oral hygiene routine. After rinsing your mouth, you use the same towel to pat your mouth dry. Any bacteria that left your hands remain on the piece of cloth you used to dry your lips and cheeks. Because it is likely damp from handwashing, it attracts bad bacteria, which can be transferred onto your face and into your mouth.
Making sure these towels are washed regularly is imperative if you want to avoid contaminating your oral cavity with germs that come from your toilet and other areas of your home.
Your Actual Toothbrush
Whether you use a manual or electric toothbrush, the same rule applies, which is to swap out the older version for a newer one every three or four months. While frayed bristles can be a clear indicator that it's time, another reason is that bacteria are easily attracted to your brush, which can lead to tooth decay, gum disease, and other harmful dental diseases. Each time you clean your teeth and remove food particles and bacteria, some remain on the brush even after you rinse it off. As a result, that same bacteria re-enters your mouth, which can wreak havoc on your teeth and gums.
To avoid potential cavities, inflamed or infected gums, or bad breath, it's best to change out your toothbrush or brush head according to your dentist's instructions.
Now that you know which items in your bathroom you'll want to pay special attention to while doing your household chores, you can take one more step toward achieving better oral health in the years to come.
About the Authors
Dr. Michele Moreno and Dr. Aiyana Zenobia Anderson want your family members to maintain healthy smiles. Understanding there are busy schedules to maneuver around, they and their dental team at Alamo Springs Dental are here to provide quick tips and tricks to keep teeth and gums looking and feeling good year-round. From ways to improve brushing to how often various oral hygiene products should be cleaned, they can offer helpful suggestions that will work to improve you and your family's oral health. Contact us at (210) 463-9339 to receive the care you need for a more vibrant smile.