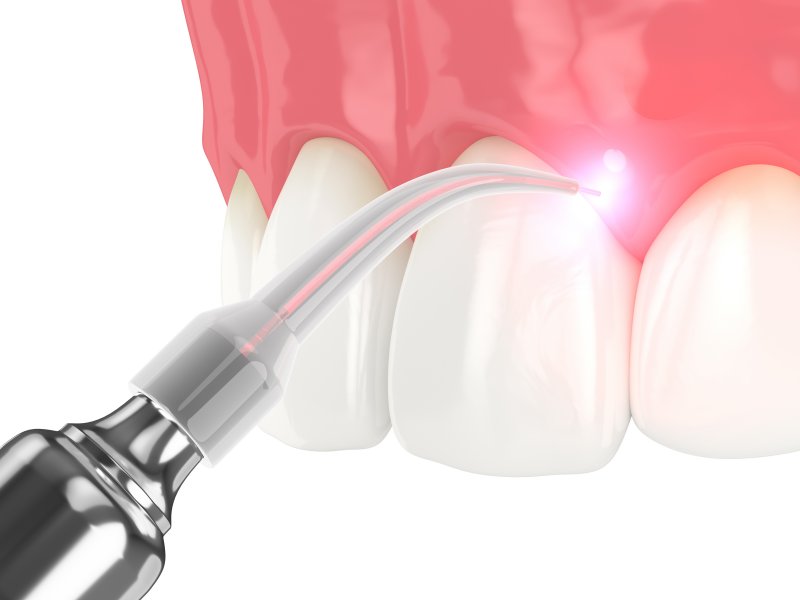 When it comes to certain dental procedures, advanced technology can be a welcomed reality. While traditional techniques and instruments can produce positive results, the new and improved equipment used by many dentists today makes it possible to provide greater accuracy, precision, and efficiency while also creating a more comfortable experience for patients. If you are preparing to undergo gum disease treatment, here are 4 benefits you can expect as your dentist uses a soft tissue dental laser to improve your oral health.
How Does Laser Dentistry Work?
Instead of using traditional scalpels and sutures, many dental professionals nowadays are turning to an advanced form of technology known as laser dentistry. Offer a far more comfortable approach when it comes to addressing problems associated with a person's gums, the concentrated beam of light can easily treat the exact area without ever touching or disturbing nearby healthy tissues. Not only does the use of a soft tissue laser make for a more comfortable experience, but it also reduces a patient's recovery time, which is often a pleasant surprise.
Although some dentists continue to use traditional methods to treat gum disease, many experts are receiving proper training to provide laser dentistry in-house as a safer, more predictable form of treatment.
4 Benefits of Using a Soft Tissue Dental Laser
If you're wondering why there is such a push for the soft tissue dental laser to be used, it is because it offers many great benefits you cannot achieve with traditional instruments and techniques. Some of the most common advantages of the dental laser include:
Optimal precision: A traditional scalpel, when in the hands of a careful and skillful professional, can properly remove infected tissue; however, with a dental laser, the beam of light targets the treatment area with pinpoint precision. Eliminating bacteria and plaque that is causing inflammation leaves healthy tissue untouched.
Minimal bleeding and swelling: Traditional instruments must be combined with plenty of clean gauzes to reduce bleeding. A dental laser cauterizes the tissue on contact, minimizing your chances of bleeding throughout your procedure. It also reduces swelling to make for a more manageable recovery process.
Reduced recovery time: Because of the laser's less invasive approach and ability to minimize swelling and reduce any potential discomfort or pain, your recovery time at home will be significantly less.
Effectively eliminates bad bacteria: When receiving gum disease treatment, the soft tissue laser eliminates any bacteria that might try to enter into your bloodstream and cause problems throughout the body.
Soft tissue dental lasers are quickly becoming more popular among dentists throughout the country. Make sure you find one that uses this advanced technology to treat gum disease because it will benefit you during and after your procedure.
About the Authors
Dr. Michele Moreno believes in the importance of preventive care. As a dentist in Alamo Ranch who offers family dentistry services, she has dedicated her career to helping others achieve a better quality of life with a healthier, fully restored smile. Dr. Moreno and Dr. Anderson are qualified to provide laser dentistry to help individuals take back their gum health once and for all. Using advanced technology and equipment, they can create a more comfortable experience for patients while guaranteeing a more precise and accurate procedure each time. If you're interested in learning how a soft dental laser can treat your inflamed gums, contact us at (210) 346-0967.