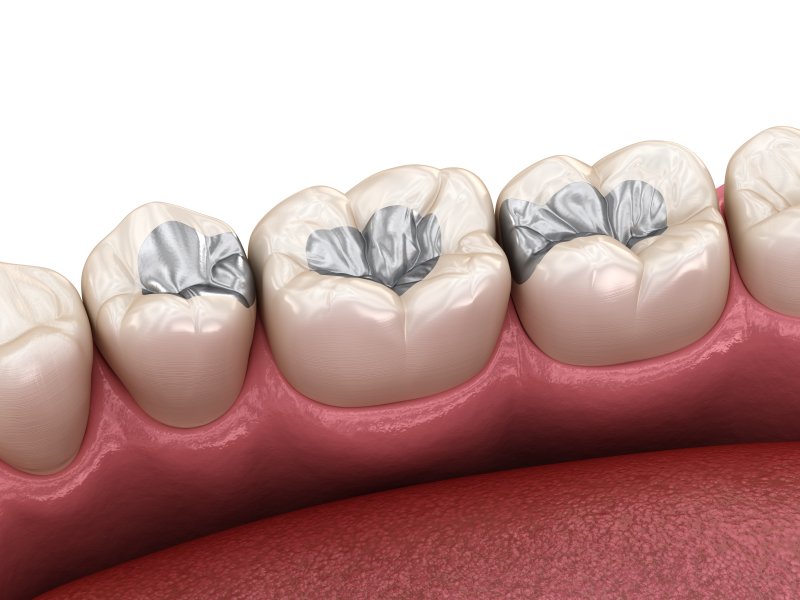 In the past, traditional amalgam was the go-to material for dental fillings. Although effective at keeping bacteria out, these restorative treatments, which are still used today, do little to conceal an individual's dental work and are known to contain high levels of mercury, which is toxic and can enter into the bloodstream. No matter how many fillings you currently have, it's time to listen to a dental professional who explains why it's necessary to replace metal fillings in Alamo Ranch with a restoration that is safer and more aesthetically pleasing.
The Dangers of Metal Fillings
For decades, dental professionals and researchers have debated the potential adverse effects of dental amalgam. Known for its durability, it has helped millions of people better protect their weakened teeth. However, as dentistry evolves and more information surfaces about the materials used, it has become a cause for concern. Why? Because amalgam contains mercury, which releases a vapor while in liquid form. If inhaled, it can cause various problems throughout the body, including the kidneys and the brain.
By choosing to insert amalgam into the mouth in the form of a dental filling, patients are more likely to develop mercury within the blood, especially if multiple restorations are needed. In a 2016 study published by the University of Georgia, researchers discovered individuals with 8 or more metal fillings had 150% more mercury in their blood.
While the Food and Drug Administration (FDA) states that amalgam fillings are safe for adults, they advise that children, pregnant women, and individuals who have pre-existing brain or kidney diseases or who are allergic to mercury avoid metal restorations.
Why Tooth-Colored Fillings are Recommended
While you are certainly free to make your own choice about the use of metal fillings, your dentist will likely recommend a safer, more environmentally friendly option. With tooth-colored fillings, you don't have to sacrifice quality or safety. Instead, these trusted and proven restorations are just as durable and protect weakened teeth from future reinfection or damage. Not to mention, they are an ideal solution for individuals who are allergic to metal, and they look more aesthetically pleasing when put into place.
Tooth-colored fillings can be matched to your natural tooth color, allowing for a more seamless and beautiful presentation. Your friends, family, and colleagues will never know you've had dental work because of your dentist's ability to shape and sculpt the BPA-free composite resin that is used to fill your tooth.
Don't wait to say "so long" to your metal fillings. Find a local dentist near you who provides tooth-colored fillings and feel more confident in the health and aesthetics of your smile.
About the Authors
Dr. Michele Moreno and Dr. Aiyana Zenobia Anderson want you to enjoy a healthier smile and body. As professionals who use metal-free restorations, they remain committed to ensuring their materials are safer for patients and better for the environment. Offering tooth-colored fillings, they can easily repair a weakened tooth with non-toxic, biocompatible materials that seamlessly blend with the color of your natural teeth. If you're ready to make a change from your regular metal fillings to a safer, more environmentally friendly alternative, contact us at (210) 463-9339.