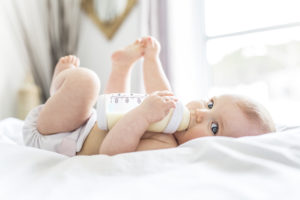 Did you know that an estimated 28% of children ages 2-5 have cavities? It's a common misconception that baby teeth aren't that important, but nothing could be further from the truth. Although there are multiple factors that contribute to childhood cavities, there's one that's especially harmful (but completely preventable). Known as "baby bottle tooth decay," it causes rapid, severe decay that can be devastating to a child's oral health. Keep reading to learn more about this condition and what steps you can take to keep your child's teeth healthy!
How Does Baby Bottle Tooth Decay Happen?
Many parents resort to putting their fussy babies to sleep with a bottle of milk, formula or juice (all of which contain sugars). You can think of this prolonged exposure as a "sugar bath" for your child's teeth, which can quickly cause severe decay.
In some cases, a child's teeth are almost entirely destroyed down to the gumline and either need to be extracted or require major dental work to repair.
The good news is that baby bottle tooth decay is easy to prevent. After all, every child will use their baby teeth for many years to eat and speak properly, as well as smile with confidence. Every effort to keep them healthy is well worth it!
How Can You Keep Your Child's Teeth Healthy?
Here are some great ways to prevent childhood dental problems – instead of treating them:
Rather than putting your child to bed with a bottle, use a pacifier.
Minimize sugars (occasional treats are okay) and never put juice, soda or sugar water in your baby's bottle.
As much as possible, avoid sharing utensils or cups with your child, as you can transfer cavity-causing bacteria from your mouth to theirs.
For infants, gently wipe their gums with a clean, damp cloth after feedings. When the first tooth erupts, use an extra gentle "teething toothbrush" and a light smear of children's toothpaste (or a rice-sized amount). For children over 3, use a pea-sized amount.
Schedule the first visit with a family dentist in Alamo Ranch by age 1. Your child won't get a cleaning or X-rays until they're several years older, but these visits are important to make sure their teeth are developing normally, ask any questions, and learn more about cavity-prevention at home. They're also a great way to help your child feel comfortable at the dentist from early on.
Good dental health in children is incredibly important. With an awareness of baby bottle tooth decay and a few proactive steps, you can prevent many problems before they start!
About the Author
Dr. Aiyana Anderson is not only a general and kids' dentist in Alamo Ranch, but also a young mother. She knows that good oral health in children lays the foundation for a lifetime of healthy smiles. If you have any further questions about baby bottle tooth decay or your child's overall oral health, she can be reached via her website or at (210) 463-9339.