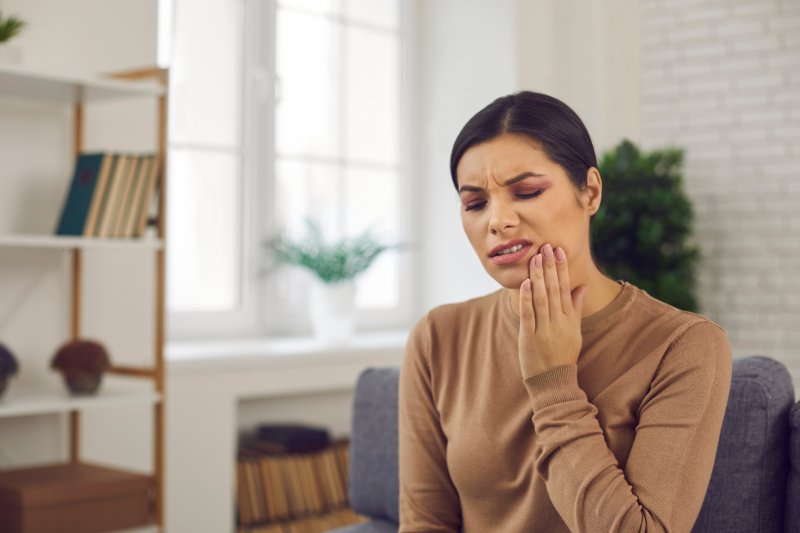 Dealing with jaw pain on one side in San Antonio can leave you frustrated and unsure as to the reason for your discomfort. Stress, inflammation, and even a more serious oral health problem can be the result of intense pain that only occurs on one side. But what can you do about it? A local dentist is here to explain the reasons for one-sided jaw pain and effective ways to mitigate the problem.
3 Reasons for Jaw Pain on One Side
Clicking, popping, and stiffness in your jaw joint are often unexpected and can become debilitating without timely treatment. Seeing a trusted dentist who can take digital images and perform a thorough examination is the only way to receive a formal diagnosis. The reason for your jaw pain will ultimately determine the type of treatment you receive.
To help you better understand what can cause pain on only one side of your jaw, here are three common reasons:
Temporomandibular Joint (TMJ) Disorder
When the joint that is connected to the base of the skull becomes inflamed or damaged, pain is likely to develop. Also known as TMD, this issue makes it extremely difficult to open and close your mouth as well as eat or even yawn. While it's most likely to cause issues on both sides of your jaw, it can manifest on just one side.
Without proper treatment, you run the risk of worn-down tooth enamel, arthritis, tooth damage, and infection.
Sinus Inflammation
When a cold hits and your sinuses become inflamed, there's a good chance you may develop what is known as sinusitis. A serious condition that affects the maxillary sinuses, swelling occurs and causes extensive tooth pain. But it's not just teeth that are painful. Jaw joints are also known to ache and become increasingly sore. With the help of medication, sinus inflammation tends to go away on its own, but if symptoms remain for one week or more, you'll need to see your dentist as soon as possible.
Tooth Infection (Abscess)
An abscess is a serious tooth infection that can lead to serious consequences if left untreated. As pus forms around the tooth, it creates a bacterial infection, resulting in immense pain. This can radiate to the teeth and jaw joints. Its consequences can be life-threatening, but it doesn't have to be if you seek immediate care. Should the bacteria enter the bloodstream, it can impact other parts of your body.
Ways to Treat One-Sided Jaw Pain
One of the most effective ways to treat jaw pain is to inquire about an occlusal splint. This unique and custom-made device is worn inside the mouth and helps to minimize and even eliminate the symptoms of TMD. If bruxism (teeth grinding) is an issue, a splint will help to keep teeth from touching and grinding against each other. Also, this device will help to reposition the jaw in a way that alleviates added pressure placed on the joints.
Other options for treatment may include antibiotics, root canal therapy, and tooth extraction (if you're dealing with an abscess). Your dentist might also suggest stretching exercises, heat, or a massage to help alleviate some of the soreness.
About the Authors
Dr. Michele Moreno and Dr. Aiyana Zenobia Anderson want your family members to maintain healthy smiles. But if a misaligned bite is causing intense jaw pain, it can make day-to-day life much more difficult. Fortunately, our team at Alamo Springs Dental offers TMJ/TMD Therapy. Designed to alleviate jaw discomfort, it improves functionality by repositioning and reprogramming jaw movement. Contact us at (210) 346-0967 to receive the care you need.