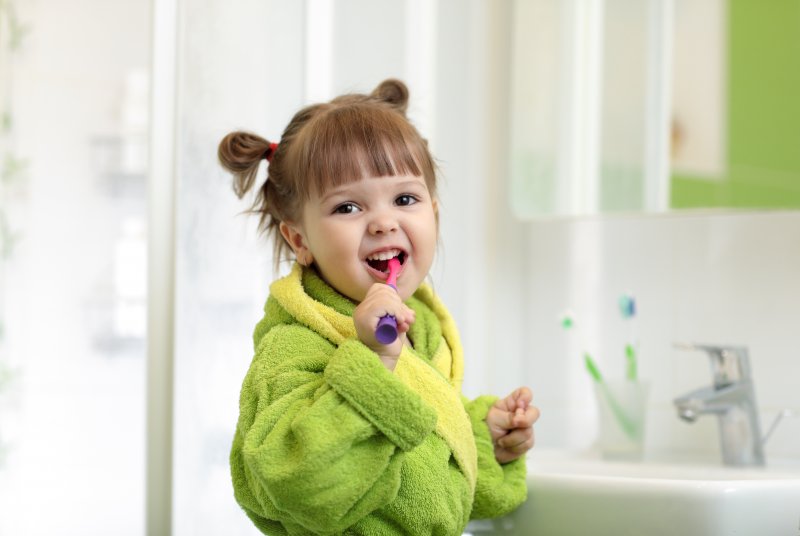 In what will seem like no time at all, your child will morph from a toddler and into a teenager. While many physical, emotional, and mental changes will occur, so will their habits, more specifically, their brushing, flossing, and rinsing routine. It might appear as if they don't need to change how they care for their teeth but as soon as those baby teeth fall out and are replaced with permanent, adult teeth, the game changes. Hear from a dentist in Alamo Ranch who can explain what changes will likely occur with each developmental stage your child enters and what you can do to help them along the way.
The Early Years
As a parent, it is recommended that you schedule your child's first dentist's appointment by the time their first tooth erupts or by the time they turn a year old. It is during these visits that they will become more familiar with the sights, sounds, and smells of the dentist's office, and their dental team will be able to provide helpful tips you can use at home to keep their gums and baby teeth decay- and cavity-free.
Until they reach the age of 3, you will need to help your child brush their teeth, using a soft-bristled toothbrush and a smear (i.e. the size of a grain of rice) of toothpaste. Once they reach preschool age, they can begin to brush their teeth on their own. You will likely need to observe their technique and help them refine their skills as well as remind them to brush twice a day for two full minutes. A great way to do this is to brush your teeth alongside them to encourage positive behavior.
Once your child's teeth are touching, it will be necessary that they begin to floss. This will require help from your dentist to determine which methods are easiest and most safe for children.
Entering into Childhood
Once your toddler transition from preschool and into grade school, they should be fully accustomed to brushing and flossing. These habits, if practiced routinely, will be a normal part of their day at this stage. However, you will still need to make sure they're doing everything correctly to avoid any damage to their teeth and/or gums.
It is also at this time that your little one may need to begin using a mouthwash. You must avoid buying any rinses that contain alcohol, as you do not want your child to accidentally swallow it. If you're unsure which brand to choose, let your dentist help.
If your child is prone to cavities and having difficulty keeping decay away, you might also speak to your dental professional about fluoride treatments and dental sealants to combat tooth decay.
The Transition to Adolescence
As your child grows and develops, their facial structure will change and for some children, result in the need for orthodontics. While not all kids need braces, many do require the help of traditional, metal fixtures or Invisalign to correct their gapped, crooked, or overcrowded teeth or poorly aligned bite.
It is during this time that they will begin incorporating additional instruments and products into their daily routine to keep brackets, wires, and retainers clean and damage-free.
If you begin to notice that your teen is having a hard time brushing around their braces and is instead, aggressively brushing to try and keep their teeth and metal fixtures clean, schedule an appointment with your child's dentist to discuss helpful techniques to avoid gum recession and the possibility of early periodontal disease.
From performing basic oral health care on your baby to watching your child become independent enough to care for their own smile to reinforcing positive habits with your teenager as they undergo orthodontics, your continued efforts will benefit them well as their transition into adulthood.
About the Authors
Dr. Michele Moreno and Dr. Aiyana Zenobia Anderson want your little one to maintain a healthy smile from infancy to adulthood. Understanding that children's dental habits change with each stage of life, they can help you better navigate these transitions and help your child fine-tune and improve their skills and techniques to keep their teeth and gums healthy and strong throughout their life. If you need help identifying ways to help your little one keep their oral health in check, contact us at (210) 463-9339.