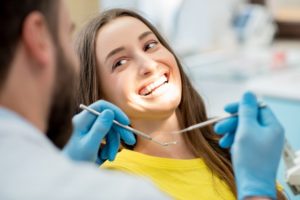 Did you know that your dentist can help detect cancer? In fact, in many cases, your dentist is the first line of defense against oral cancers, including that found in the salivary glands. This type, although not extremely common, can happen to patients of any age, but especially those older than 65. It is important to undergo a screening for salivary gland cancer in Alamo Ranch on a regular basis so that it can be caught and treated as early as possible, increasing the chances of survival. In this post, you'll learn more about this cancer and how your dentist can help you overcome it!
What are the symptoms of salivary gland cancer?
Because several important nerves and other structures are located near or run through the salivary glands, tumors in this area can impact your oral function and feeling. If you experience any of these symptoms, you may have salivary gland cancer:
Difficulty swallowing.
A lump or swelling in your cheek, mouth, jaw, or neck.
Different size or shape on the left or right side of your face.
Numbness in your face.
Difficulty opening your mouth widely.
Fluid draining from an ear.
Persistent pain in your mouth, cheek, ear, jaw, or neck.
If you notice these signs, contact your doctor or dentist in Alamo Ranch immediately for an evaluation.
How does the dentist help detect salivary gland cancer?
Every six months, you're supposed to visit the dentist for your checkup and cleaning. Although you may think they just look for cavities and gum disease, they also perform a critical oral exam, inspecting your mouth, jaw, and neck for any potential signs of oral cancers. As part of this exam, they will gently feel around your neck and jaw for any lumps or bumps near your salivary glands. Through this quick, painless screening, your dentist can determine whether you have unusual or suspicious symptoms that require additional testing, leading to an earlier diagnosis.
Why is it important to get a cancer screening with your dentist?
As with many other cancers, the sooner you catch and treat salivary gland cancer, the higher the chances are of surviving it. Overall, about 72 percent of patients with salivary gland cancer are still alive five years after diagnosis, but when it is discovered and resolved early, the survival rate jumps up to 93 percent. By having this screening every six months, you're more likely to find this cancer in its beginning stages of development, when it is easier to treat successfully.
In the end, your semiannual checkup and cleaning appointment can do much more than leave you with a fresh, brightened smile for six months. It could actually save your life! That's why you should make and keep this important appointment. If you haven't seen the dentist in a while, now is the perfect time to get back on track with your oral health.
About the Practice
At Alamo Springs Dental, patients in San Antonio have access to two compassionate, experienced dentists to maintain happy, healthy smiles. Dr. Michele Moreno loves to help patients achieve better oral health, and Dr. Aiyana Zenobia Anderson enjoys being able to help them overcome their fear of the dentist through personalized care. With about a decade of dentistry expertise each, they bring unique skillsets to every appointment. To make an appointment with them, call (210) 463-9339 or click here.