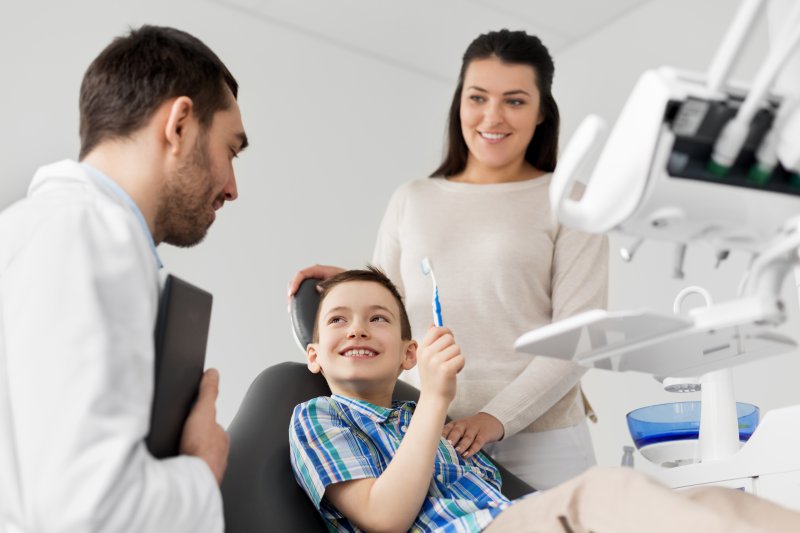 If your child is preparing to head back to school in a few short days, you're probably hurrying to make sure they have all their school supplies, new clothes, as well as a fully stocked refrigerator. In all the rush to prepare them for their first day, have you thought about their oral and overall health? Many parents often forget to schedule necessary appointments before school, homework, and sporting events take over. While working to get your child in to see a family dentist in Alamo Ranch, here are 4 tips to improve your child's oral health before the new school year gets underway.
Brush with Fluoride
Every morning, your child should be brushing their teeth with fluoride. This tried and true substance is used and encouraged by dentists because of its ability to strengthen tooth enamel and protect from tooth decay and cavities. You'll want to make sure they receive a fluoride treatment during their dental visit.
To ensure your child's teeth are safely protected, make sure they brush for a full two minutes each morning and every night before they go to bed.
Schedule Regular Dentist Appointments
If possible, always try to schedule one of their appointments right before school starts. This will allow the dentist to address any problems beforehand, making sure your child is spending more time learning in class than recovering at home from a dental procedure.
It is recommended that both children and adults see the dentist in Alamo Ranch every six months for a regular checkup and cleaning.
Eat Healthy and Nutritious Foods
When packing their lunch (and snack), make sure you're choosing healthy, nutritious foods. While your child might reach or plead for that bag of cheesy potato chips or that cherry juice box, it's best to include a small bottle of water and a good mixture of protein, fruits, and vegetables into their lunchbox. Starches and an extremely small amount of sugar is okay, but it's best if they are consumed on a limited basis, and only as a real treat.
If it is possible, have your child take a toothbrush and toothpaste to school with them. This will ensure they brush their teeth after eating, and if they do eat anything sugary, it won't be sitting on their teeth all day.
Wear Protective Mouth Gear
Does your child play sports? If so, you should talk to the dentist about protective mouth gear. A well-fitted mouthguard can protect their mouth from injury or trauma. Too often, children are hit with a flying ball, straight to the mouth. This type of injury can knock out teeth or cause damage below the surface that can result in extensive dental work.
Put your child's oral health on the right track this school year. By making sure they have healthy teeth and gums, they'll be able to sport a beautiful, fresh smile on their first day.
About the Author
Dr. Michele Moreno, DDS, earned a Bachelor of Science in biochemistry from Angelo State University in 2001, graduating magna cum laude. She then went on to earn her Doctor of Dental Surgery degree at Helotes's University of Texas Health Science Center. Spending seven years as a staff dentist in a community health clinic, she is now a dentist at Alamo Springs Dental and enjoys helping her patients, both children and adults, achieve better oral health. To find out how you can improve your child's oral health before they head back to school, contact us at (210) 463-9339.