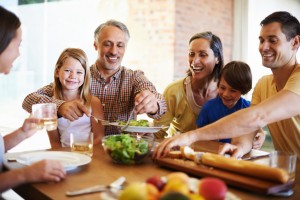 The holidays are quickly approaching. Truthfully, it feels like they get mentioned earlier and earlier each year. The fact of the matter is, no matter which holidays you are celebrating, they usually mean one thing: lots and lots of food. This can be an especially trying time for your teeth, as you will often be tempted to over-indulge. In order to keep things simple, here are 6 foods for you to avoid over the holiday season from your dentist in Helotes from Alamo Springs Dental.
1. Sugary Drinks
This includes sodas, juices, and energy drinks. These drinks are all high in sugar, which means they facilitate the buildup of plaque on your teeth which can start to decay them. They also have an inherent acidic quality. If you are thirsty, best to just reach for some water.
2. Candy
Candies tend to be enjoyable simply because they are full of sugar. Typically, hard candies take a while to eat and sit in the mouth for an extended amount of time, which can give bacteria more of a chance to breakdown your teeth. Chewy candy can be difficult to brush and clean off as it sticks to your teeth. Sour candies can be especially damaging because they have more acidity.
3. Coffee
Your teeth are actually quite porous. Dark drinks like coffee can seep into these cracks and stain your teeth, making them look dull and discolored. Even drinking through a straw can't help protect them. Best to drink water, and if you need to wake up, just splash some on your face.
4. Potato Chips
Chips, much like chewy candy, can actually become quite gummy as you eat them. This means they stick to your teeth, which allows bacteria to chow down on your enamel. If you need a snack, try some unsalted peanuts, almonds, or even a banana.
5. Eggnog
What may seem like a must-have is extremely bad for your teeth. Not only is it loaded with fat and sugar, but it can also adhere to your teeth for an extended amount of time. The sugar can decay the enamel and really impact your smile. This one may be difficult, but you'll be glad you passed on it later.
6. Turkey
Just kidding, enjoy! A little holiday mirth. You don't need to completely stop having these foods, just try to enjoy them in moderation.
Don't Forget Us!
With all the food and merriment you'll be experiencing this holiday season, it is especially important that you make sure to come see us. Dental cleanings in Helotes are one of the best ways to balance out all of the fantastic foods you will have. They are able to clean your teeth in ways you simply can't with routine brushing and flossing. Be sure to enjoy this holiday season, and don't forget to clean your teeth!