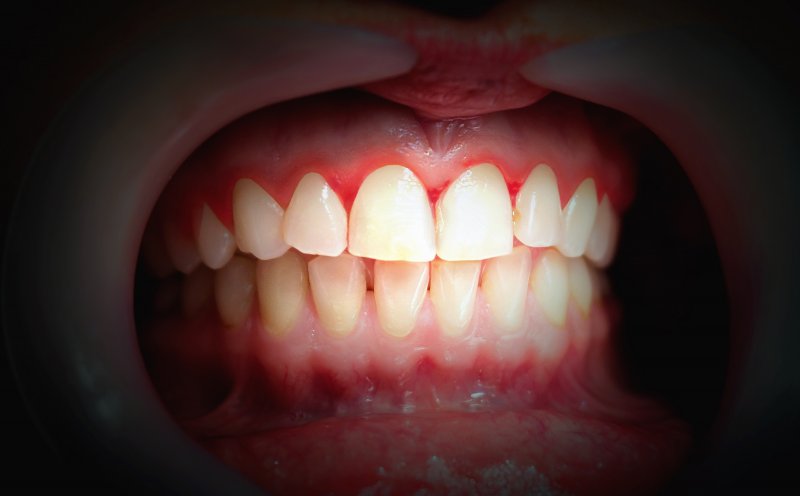 Although seeing your dentist in Alamo Ranch right now may seem like a risky idea, the truth is that your oral health could significantly worsen if left untreated, putting you at potential risk for COVID-19. Because the mouth and body are closely connected, an infection that develops in the soft tissue (gum disease) can cause inflammation and weaken the body's immune system. Read on to learn more about the connection between periodontal disease and COVID-19 and what you can do to keep your smile healthy and your body free of this highly contagious virus.
The Link Between COVID-19 and Gum Disease
According to a new report referred to as "The Mouth COVID Connection (MCC)," there is a link between COVID-19 and inflammation of the gums and bone loss caused by bacterial growth. What was discovered is that patients who were hospitalized with the virus and reported problems associated with gum disease possessed high levels of IL-6, which is a dangerous protein that increases when soft tissue inflammation occurs. As a result, these individuals are at a higher risk of respiratory failure.
Because the IL-6 protein is so harmful, it can easily spread to the lungs. Should that person have COVID-19, the mixture of the two can create a dangerous situation that can ultimately be life-threatening.
Not to mention, gum disease is often linked to many other health-related conditions that can increase the risk for COVID-19. From heart disease and pneumonia to even chronic obstructive pulmonary disease (COPD), any of these serious ailments can be worsened if an individual contracts the highly contagious virus.
How to Prevent Gum Disease
Researchers are urging individuals to take proactive measures to avoid the potential for gum disease. This means seeing a dentist regularly for checkups and cleanings. Because this disease is often under-diagnosed, it can advance quickly beyond the initial stages of gingivitis and turn into periodontitis.
To avoid gum disease and COVID, there are several things you can do to safeguard your oral and overall health, such as:
Maintaining a good oral hygiene routine of brushing twice daily for two minutes, using fluoride toothpaste, flossing at least once a day, and rinsing with an antimicrobial mouthwash.
Throwing away your toothbrush if you've been ill or if it has been used for at least 3-4 months and purchasing a replacement.
Washing your hands for 20 seconds using warm water and soap.
Keeping your toiletries thoroughly sanitized. This includes your toothbrush holder. Also, you'll want to regularly switch out your bathroom hand towel to prevent potential cross-contamination.
Seeing your dentist for regular checkups and cleanings every six months, and following the COVID dental safety protocol in Alamo Ranch
Gum disease is a serious oral health problem that can negatively impact your body, mind, and wellbeing. Take these helpful tips into consideration as you navigate the current pandemic. By being proactive about your gum health, you can put yourself in a better position to combat COVID-19.
About the Author
Dr. Michele Moreno believes in the importance of preventive care. As a dentist in Alamo Ranch who offers family dentistry services, she has dedicated her career to helping others achieve a better quality of life with a healthier, fully restored smile. Dr. Moreno earned a Bachelor of Science in biochemistry from Angelo State University in 2001, graduating magna cum laude. She then went on to earn her Doctor of Dental Surgery degree at Helotes's University of Texas Health Science Center. If you would like to learn more about various at-home oral health habits, contact us at (210) 463-9339.