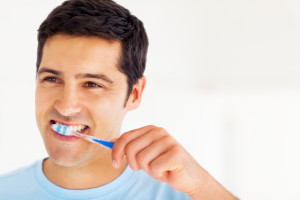 It's not easy to make decisions — especially in a place as overwhelming as, say, the toothpaste aisle at the grocery store. With so many options to choose from, how can you be sure you are making the right decision for you and your family? Your dentist in Helotes has some expert advice on selecting the best oral care products for each and every smile!
Fluoride Toothpaste
From cinnamon to mint, clove, whitening, and super anti-tartar combat fighting mode, it seems like there are a million different formulas of toothpaste. But the truth is, while there are minor differences in flavors and specialties, most toothpastes are pretty much the same. So, if you often find yourself wondering "What toothpaste should I use?" Helotes dentist Dr. Moreno says just look out for one that has the American Dental Association Seal of Acceptance, which will guarantee that it contains fluoride, the mineral that is known to reduce the bacteria that causes tooth decay and gum disease.
Toothbrush Bristles
When it comes to your toothbrush, it doesn't matter what color or brand you get (unless, of course, you're 8 and your favorite character is Elsa from Frozen). The most important thing to look out for in a toothbrush is how hard its bristles are. It can feel like you're getting a really good clean with a hard or medium bristled toothbrush, but stick to one that's labeled "soft" to protect your delicate gum tissue. Anything harder than that and you run the risk of causing your gums to bleed, bruise, or recede.
Electric or Manual?
Our patients often ask whether or not they should be brushing with an electric or manual toothbrush — and the answer is, it depends. While it is possible to achieve an excellent clean with a good old fashioned toothbrush, most electric toothbrushes come with a built-in timer that makes it easier to clean for the full two minutes, every single time you brush. Studies show that people who use electric toothbrushes have less plaque and a reduced risk of gum disease than when they brushed manually.  
Mouthrinses for Additional Cleaning
While using a mouthwash should never be treated as a substitute for regular brushing and flossing, it can be a nice supplement to any hygiene routine. Make sure you choose an antimicrobial formula — cosmetic rinses taste and smell good, but don't do much in the way of actually killing bacteria.
Waterpicks and Interdental Cleaners
If you have difficulty maneuvering floss around your teeth, or if you have dental restorations that require more thorough cleaning, it's wise to invest in a Waterpik. These shoot a high pressured water stream around the teeth, to remove bacteria in places you may not be able to reach. Your dentist can also show you how to use an interdental cleaner to clean dental implants, crowns, or other special dental work.
Where's the Expert Dentist Near Me?
If you have questions about which toothpaste, toothbrush, or mouthwash is best for you and your family, know that you have a team of experts on your side at Alamo Springs Dental. Request an appointment today!