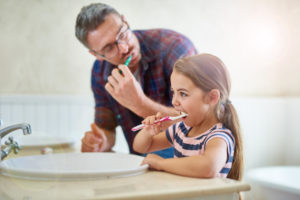 If you have a child, you've definitely heard of the anti-bullying campaign that's been sweeping the Nation. Most statistics relate to pre-teens and teenagers, starting right around when children turn 12 years old. But have you ever thought of how bullying may start even younger than that, say…less than 10 years of age?
Your dentist is here to unveil the unfortunate power of bullying and also empower parents to help stop it. Let's take a deeper look at how parents and dentists alike can help our youth feel more confident and unfazed by bullies at school.
Shiny Smiles can Stop Bullies in Their Tracks
An article published by the bimonthly journal, The Angle Orthodontist, reviewed a study conducted by 6 scientists at the dental school of Turin University in Italy. The results reflect that the smile is important to adolescents as well as children less than 10 years of age.
The children with attractive, aesthetically pleasing smiles had more healthy social interactions as well as reduced amounts of teasing. When children are faced with statistics like these (statistics found from the National Center for Education Statistics), as a parent you may want to look into dental treatments at an early age:
21% of students ages 12-18 reported being bullied at school during the school year.
Of the students aged 12-18, 13% reported they were made fun of, called names, or insulted.
12% reported being the subject of rumors.
5% reported that they were either pushed, shoved, or spit on.
5% reported being excluded from activities on purpose.
4% reported being threatened with harm.
3% reported being urged to do things they did not want to do.
2% reported that their property was destroyed on purpose.
Don't confuse the message, we're not saying that your child's smile could be the cause of bullying. But when your child is faced with possible scenarios like these, parents can only wonder how they can help reduce those chances of these horrible things happening to their child.
Your Cosmetic Dentist is Here to Help
When your child is so young, it's important to keep in mind that they're still developing—that goes for their mental state and their mouth. It's critical to protect both of these things.
That's why children's dentistry is so vital to keeping your little one's baby teeth and developing teeth healthy and bright. Our check-ups and cleanings are just one way we help their smiles to grow strong and healthy. You can ask your dentist about dental sealants or even orthodontic options as they grow older.
The bottom line is that as parents, you always want the best for your child. When it comes to protecting them from bad experiences at school, you can start with protecting their smile.
---
About Our Office
When you choose to bring your family to Alamo Springs Dental, you're choosing to receive loving care like you're a part of the family. As mothers, Dr. Anderson and Dr. Moreno both understand how critical it is to nurture, make patients feel comfortable, and ultimately protect smiles from dental issues and damage. If you would like to visit either of our dental experts, feel free to give our San Antonio office a call.