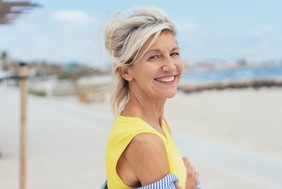 You might not think that dental implants in Alamo Ranch can become stained, but it can certainly happen, and it does. Although not porous like traditional tooth enamel, bad nutritional and lifestyle habits can take one of your greatest investments and sabotage it. If you want to avoid discoloring your new teeth and instead, keep them looking bright and new for years to come, spend a few moments reading this article to get the scoop.
Do Dental Implants Stain?
These permanent prosthetics can be your chance to achieve a full, complete smile once again. The bright and beautiful restorations created to blend in seamlessly look and feel natural, making it easy to enjoy what life has to offer. However, your new and improved appearance can come to a screeching halt should you begin to see discoloration on your teeth.
Dental implants may not stain as easily as regular tooth enamel. But if you consume too many darkly pigmented beverages and foods, engage in smoking and tobacco use, or practice other bad lifestyle habits, it will not only damage your teeth but also cause them to darken over time.
Ways to Reduce Your Risk of Staining
To prevent staining and discoloration, you must first understand the makeup of your dental implants. Created using a special glaze that is designed to protect teeth and keep them strong and durable, it can diminish over time if you consume foods and beverages that are highly acidic, brush aggressively, or neglect your oral hygiene routine. Once this part of your implant is damaged, stains will become exposed.
If you want to avoid damaging or discoloring your investment, you'll need to adopt these healthy habits:
Practice a rigorous oral hygiene routine. Use a soft-bristled toothbrush and non-abrasive toothpaste to keep your teeth clean.
Quit smoking and using tobacco products, as they contain nicotine and tar and can easily stain your pearly whites.
Wear a mouthguard if you are prone to bruxism (grinding your teeth at night), as this will better protect your dental implants and jaw from serious injury or pain.
Limit your consumption of highly acidic and darkly pigmented foods and beverages, including soda, coffee, tea, red wine, berries, etc.
Dental implants are a timely and costly investment, so don't let bad habits cause your money to go down the drain. Commit to maintaining a healthier smile and watch as your teeth continue to shine bright for years to come.
About the Practice
At Alamo Springs Dental, our team of experts is here to help you achieve your smile goals. If you're missing multiple teeth and desire dental implants to replace them, we can help make this dream a reality. But we'll also go over the necessary commitment you'll need to make once your new teeth are in place. Committing to oral hygiene and forgoing bad habits are essential if you want a smile that lasts a lifetime. Contact us at (210) 463-9339 to find out what you can do to minimize your risk for stains and continue to enjoy your dental implants.