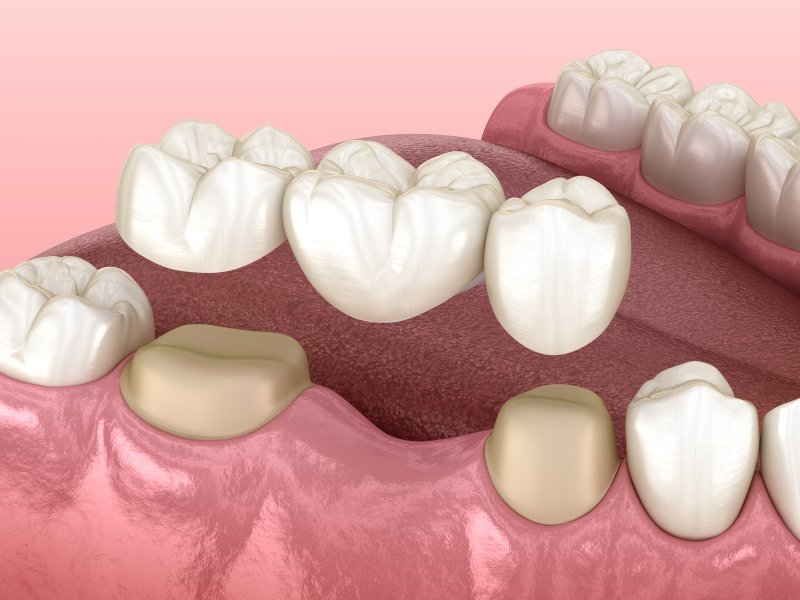 Do you know the difference between a dental crown vs. a dental bridge? For years, dentists have continually turned to these reliable and effective restorations as a way to restore smiles and improve oral health. Whether it is a missing tooth or one that is severely decayed, these custom-made prosthetics can give you a new lease on life as well as boost your confidence like never before. Read on to learn more about these useful restorations and find out which one is right for you.
What is a Dental Crown?
A dental crown is also known as a "cap," which is placed over your natural tooth. Patients with severe decay or damage to a particular tooth often find dental crowns to be a useful solution to protect a weakened tooth as well as strengthen the tooth's structure.
Not only are they custom-made to match your natural tooth color, size, and shape, but they will fit comfortably over your tooth, giving you improved functionality.
What is a Dental Bridge?
A dental bridge is comprised of three dental crowns fused together to create a bridge prosthetic. These are used when individuals arrive with a missing tooth. Designed to "bridge the gap" in a person's smile, they, too, are customized to match the size, shape, and color of nearby teeth, offering a full, complete look that is natural in appearance.
Your dentist will use your healthy teeth on either side of the gap as anchors for the prosthetic. After preparing them, the two crowns on the outside will be placed over your natural teeth while the one in the middle will rest on top of the gums.
Which One is Better for You?
Now that you know a bit more about each individual restoration, you may wonder which solution is best for your needs.
Dental Crown
If you suffer from any of the following, it is likely that your dentist will recommend a dental crown:
Damaged or fractured teeth
Extensive decay
A large filling that has caused damage to your tooth
Stained or yellow teeth
Misaligned or misshapen teeth
Dental Bridge
Dental bridges are great for individuals who have:
A missing tooth
An uncomfortable or unstable denture
How Much Do They Cost?
How much your dental crown or dental bridge will cost is dependent upon your individual insurance plan. Although all policies are different, most cover anywhere from 50-70% for this type of treatment. It's important that you review your policy to find out how much your insurance will pay versus how much you can expect to pay out of pocket. If you are uninsured or are having difficulty paying for your crown or bridge, find out if your dentist offers payment plans to ease your concerns.
Weakened, decay, damaged, and missing teeth no longer have to be the reality. Thanks to dental crowns and dental bridges, you can enjoy a complete smile once again. Talk to your dentist about what you can do to get started to improve your oral health and outward appearance.
About the Authors
Are you need of a dental restoration that will provide protection, improve your smile, and restore your confidence? At Alamo Springs Dental, Dr. Michele Moreno and Dr. Aiyana Anderson are pleased to offer dental crowns and dental bridges to help you achieve your smile goals. These tried and true restorations have been saving patients from worsening oral health problems for decades, so if you're in need of a solution that can help protect a weakened tooth or bridge the gap in your smile, contact us at (210) 463-9339.