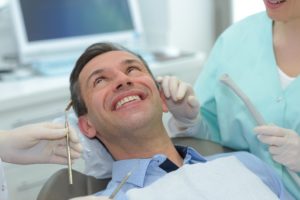 In addition to brushing and flossing, the care you receive from your Delta Dental dentist in Alamo Ranch is equally important. Your dental insurance allows you to get the comprehensive services you need to keep your teeth and gums healthy. Unfortunately, your coverage will not always be there. At the end of the year, your benefits expire. You will lose the opportunity to keep your smile healthy for reduced rates if you do not see your dentist now.

Maximizing Your Dental Insurance
Although many people do not think a dental appointment is necessary until after an issue develops, this is not true. Preventive care reduces your long-term costs for services. In fact, every $1 spent on preventive dentistry saves you $8 to $50 on emergency and restorative fees.
With prevention the foundation to dental insurance, your policy covers 2 routine visits every year. By paying your monthly premium, you have access to the cleanings and checkups you need to promote your oral health.
Not only does your insurance cover preventive treatments but also restorative services to quickly rehabilitate your oral health. After paying your annual deductible, you can save as much as 50% to 80% on these services depending on your specific policy. Now, there is no need to put your dental care on hold. You can restore a healthy smile for little out-of-pocket expense.
On December 31st, your benefits expire. They do not carry over into the new year. You will also lose the money you have paid in premiums and deductibles. With less than 3% of Americans meeting or exceeding their annual coverage, you likely have several benefits remaining.
To use them before they expire, it is best to choose a Delta Dental or Cigna Dental dentist in Alamo Ranch. They have pre-negotiated rates with your insurance carrier to lower the cost of treatments. They work on your behalf with your insurance company to maximize the value of your policy. They can even split the cost of treatment across calendar years to prevent a large bill.
Use Your Flexible Spending Account
Instead of insurance, you may have a Flexible Spending Account (FSA). This is a special account you put money into throughout the year to pay for your dental care. At the end of the year, you lose almost all the money you have put into it if you do not visit your dentist. This could result in hundreds of thousands of dollars thrown down the drain.
Get a Healthy Smile Today
As the last few weeks in the year approach, take the time to recommit to your oral health. Use your remaining dental benefits to get a healthy smile.
About Dr. Michele Moreno
Dr. Michele Moreno has provided comprehensive dental care for the past 9 years. As an in-network dentist, she offers affordable services to keep her patients' smiles healthy. If you have remaining coverage, do not wait until it expires. Schedule an appointment with Alamo Springs Dental today!