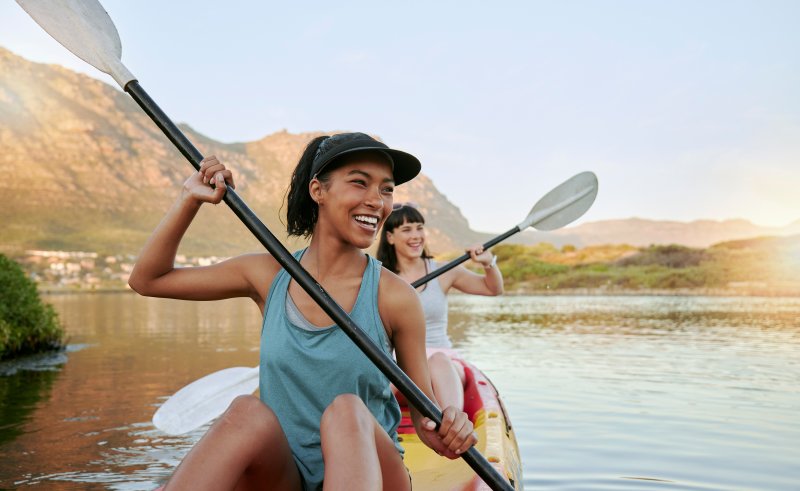 Warm sunshine, longer days, and clear blue skies – summer is officially upon us! It's time to embrace the season with a radiant smile. Social gatherings, beach vacations, and outdoor events are on the horizon, meaning there's no better time to enhance your appearance and boost your confidence. Read on to learn which three popular cosmetic dental treatments are perfect for summer.
Veneers
Veneers are a gamechanger when it comes to achieving a flawless smile. These thin shells are made to fit over the front surface of your teeth, concealing imperfections and enhancing their appearance. Whether you have chipped, stained, or misaligned teeth, they can provide an instant and long-lasting solution.
Summer is a great time to get veneers as the process usually takes a few weeks to complete. Your dentist will carefully plan their design and color, ensuring they blend seamlessly with your natural teeth. Once placed, you can confidently flash your new picture-perfect smile at all your summer events!
Teeth Whitening
A white, dazzling smile is synonymous with summer, and teeth whitening can help you achieve just that. Professional treatments are safe, effective, and offer dramatic results. Whether you opt for an in-office treatment or a take-home kit provided by your dentist, teeth whitening can brighten your grin by several shades.
Over time, your teeth can become discolored due to aging, lifestyle habits like smoking, or consuming dark-colored foods and drinks. Well, summer is the perfect time to reverse the effects of these stains and embrace a fresh smile!
Metal-Free Crowns
If you have damaged or decayed teeth, metal-free crowns offer an excellent alternative to traditional ones. Made from modern materials like porcelain or composite resin, these restorations closely resemble natural teeth in terms of color and translucency. They are also highly durable, lasting many years with proper care and maintenance.
The summer season often brings about a desire for a more natural and effortless appearance. Fortunately, metal-free crowns provide just that by seamlessly blending with your existing teeth! Your dentist can customize the restoration to match your unique smile, giving you a renewed sense of confidence as you enjoy seasonal activities.
About the Practice
At Alamo Springs Dental, we strive to create an environment that's welcoming and comfortable unlike anywhere else. Our team will use the latest technologies and techniques to ensure you receive the quality care you deserve. If you want to enhance your summer smile, don't hesitate to contact us. We'll go over your options and help you achieve your dream look! You can make an appointment via our website or call (210) 463-9339.