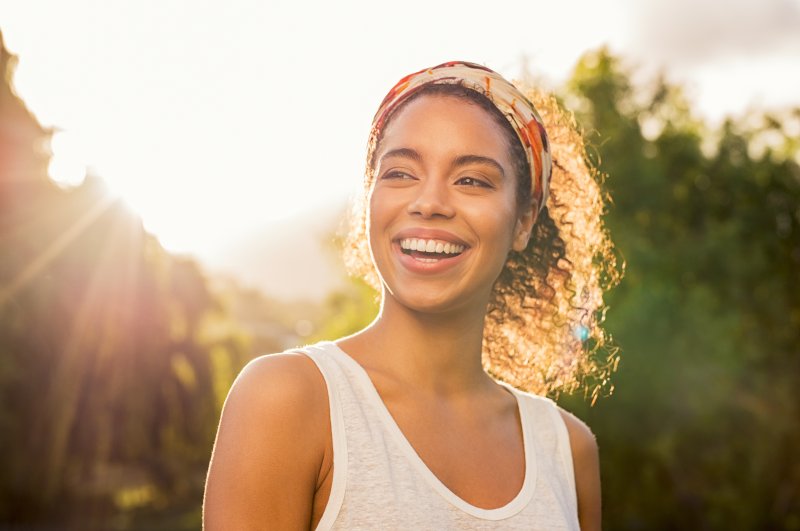 Do you find yourself smiling more these days? One of the great benefits of cosmetic dentistry is the fact that you'll want to show off your new and improved teeth and gums to those around you. Equipped with a new sense of self and confidence, the happier, more joyful you may find that your decision to pursue dental treatment is positively impacting your life in other ways. Read the following article to learn how a healthy, beautiful smile can make a big difference in your day-to-day life.
Smiling Makes You Feel Happier
When around friends, family, or colleagues, do you gravitate more toward those who appear unhappy or those who have a smile on their face? Naturally, if you're like most people, you want to surround yourself with others who appear happy. Even if something is bothering you, smiling stimulates your facial muscles, allowing your brain to think you're actually in a good mood. As a result, a smile of any kind can help to improve the way you feel at that particular time.
A Smile Can Expand Your Opportunities
Whether you've recently whitened your teeth or had veneers put into place, a new and improved smile can give you the confidence you need to embrace new opportunities. Have a job interview coming up and want to make a good first impression? Make sure your smile looks its best, as it will tell the interviewer that you care about your appearance. When you walk into a room with teeth that are healthy and beautiful, you'll feel better about yourself and create a positive and approachable image.
It Can Help in Stressful Situations
Everyone has days at work or even at home that are stressful. No matter if you're juggling multiple projects or presentations that are due within the next week or trying to catch up on what feels like a never-ending list of chores, smiling after completing a stressful task can help you feel better much sooner. Because your heart rate tends to rise when dealing with a tense situation, taking a moment to sit back and smile can bring it down and trigger your brain to believe that "everything is okay."
Your Smile Can Cause You to Appear Younger
Want a more youthful appearance? Not only will seeing a cosmetic dentist to hide or eliminate imperfections help, but the benefits of a fully transformed smile will do wonders when it comes to others attempting to decipher your age. If laugh lines are a worry, understand that individuals who spend their years smiling often appear far younger than those who want to avoid these "unnecessary" lines.
When it comes to boosting your confidence, improving your aesthetics, and giving you the opportunity to embrace new and exciting opportunities, having a smile you can be proud of is a great way to start your journey. Why wait? Find a cosmetic dentist near you who can help you take the next step.
About the Practice
At Alamo Springs Dental, our team of experts is here to help you achieve your smile goals. If a full transformation is what you desire for your teeth and gums, we can provide a wide array of cosmetic services, each designed to hide imperfections, boost confidence, and help you see a more vibrant and beautiful you. If you are interested in learning more about the available cosmetic services we provide, contact us at (210) 463-9339.