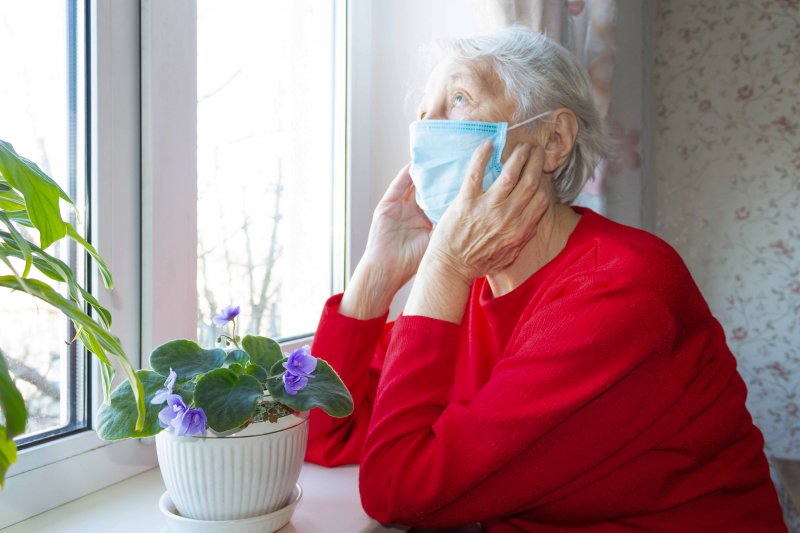 Are you preparing to see your dentist in Alamo Ranch? Do you worry because you are considered "at-risk" that you might contract a harmful virus that could cause you to become ill? Will you be okay if you postpone your dental checkup and cleaning another few months? You are not alone in wondering about your health when leaving the house. This is why your dentist is going above and beyond to not only provide a safe and secure environment for all patients, but they are also taking the time to address the common concerns of individuals most at-risk for contracting COVID-19. Read on to find out what your dental professional has to say.
What is the Best Way to Protect Against COVID-19?
It is recommended that you practice social distancing if you are to leave your home. For patients who are 65 years of age and older or who are immunocompromised, it is always best if you remain at home and away from others who are sick. If you do need to leave your house for any reason (i.e. buying groceries, doctor or dentist's appointment), make sure to wear a mask and stay at least 6 feet apart from the people around you.
Can I Receive Dental Care?
Ultimately, this is your decision, but you should know that your dentist is taking every possible precaution to ensure the health and safety of at-risk patients at their practice. From wearing personal protective equipment (PPE) to installing IONIC UV Air Purification to the HVAC system to performing a deep cleaning of the office each night, these protocols are designed to minimize harmful pathogens that can lead to illness.
If you believe you should postpone your appointment, your dental team will work to rearrange another time that is best for you.
What If I Can't Postpone My Treatment and Need Emergency Care?
If you require more than a regular dental checkup and cleaning and need emergency care, don't be afraid to contact a member of the staff to discuss what steps you should take before arriving for your appointment. If an aerosol-generating procedure must be performed during your visit, your dentist will use advanced chairside suction to minimize contamination and improve the air quality within the office.
What Precautions Are Being Taken to Ensure the Health of Staff?
Dentists throughout the country are not only keeping the health and safety of patients in mind, but they're also taking extra precautions to ensure their staff remains free of any illness-causing germs, bacteria, and viruses. Daily temperature and health checks are performed before starting work, and all team members are now instructed to change into and out of their work attire while at the office. This is to avoid spreading any bacteria outside the practice and onto another individual.
How Many Patients Will Be in the Office at One Time?
During your appointment, don't expect to see a lot of other patients. Why? One reason is that your dentist is using sequenced patient scheduling which means they're not seeing as many people in one day. This allows for more time between visits so team members can thoroughly clean and prepare for the next patient. Another reason is that appointment times are being expanded to allow more dental work to be completed in one visit instead of scheduling multiples over several weeks or months.
It's normal to feel a bit uncertain about stepping inside any kind of medical facility at this time; however, don't be afraid to inquire about the safety measures being taken and what you can do to lower your risk of potential infection during your visit.
About the Author
Dr. Michele Moreno believes in the importance of preventive care. As a dentist in Alamo Ranch who offers family dentistry services, she has dedicated her career to helping others achieve a better quality of life with a healthier, fully restored smile. Dr. Moreno and her team are working hard to ensure the health and safety of all patients during these uncertain times. If you are considered at-risk or would like to know more about how you can better protect yourself while at the dentist's office, contact us at (210) 463-9339.