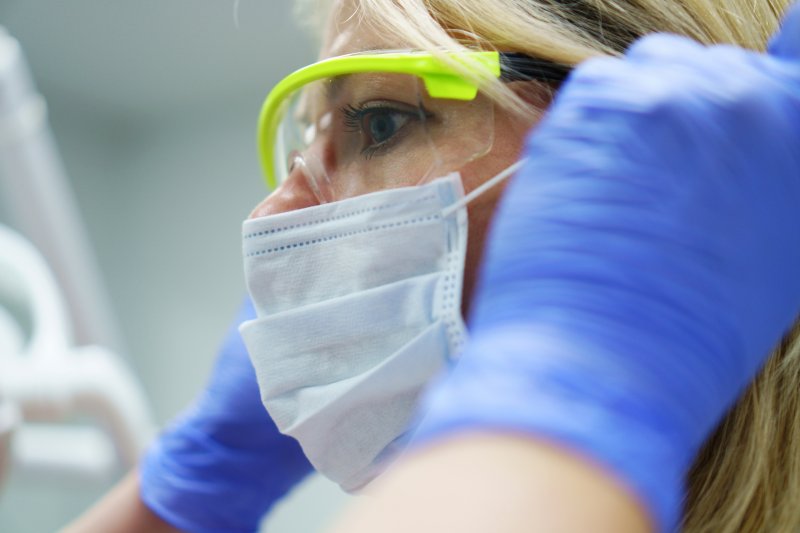 Are you ready to see your dentist in Alamo Ranch for a regular checkup but are still worried about the cleanliness of their office? You're not alone in your thinking; however, your dental team doesn't want this concern to keep you from getting the care you need. But how can you know it's safe? To offer you reassurance and better peace of mind, here are 5 ways your dentist is preparing your upcoming visit.
Ensuring All Staff Is Healthy
Not only is it important for you to be healthy when you arrive for your appointment, but it is also necessary that all staff members be fever and symptom-free before starting their work. This is why your dental team will have their temperatures checked the moment they enter the office. If anyone is sick or displaying symptoms related to COVID-19, they are instructed to stay home until they are cleared to return to work.
Keeping Clothing Free of Bacteria and Viruses
A common practice before the threat of COVID-19 was to see your dental team members wearing their scrubs out in public. That is no longer the case with this new dental safety protocol in Alamo Ranch that requires staff to change into work clothes at the office and change out before they go home. Because bacteria and viruses can live on personal clothing much longer than originally thought, this new rule ensures no outside elements will be "tracked" in and spreading to patients or fellow colleagues.
Establishing a New Safety Champion
Each day, a different member of the dental team will be identified as the "Safety Champion." This person will oversee the day's activities, making sure everyone is following necessary social distancing recommendations as well as cleaning and sanitizing procedures. They will also greet you and other visitors, ensuring you, too, are following proper protocols.
Maintaining High Personal Hygiene Standards
Apart from maintaining high cleanliness standards as it pertains to the dental office, your dentist is also making sure to practice the highest level of personal hygiene to avoid unnecessary bacteria or viruses from transferring from staff-to-patient. This includes keeping fingernails cut short to avoid dirt accumulation underneath the nail bed as well as pulling all hair back and away from the face.
Wearing Appropriate Personal Protective Equipment (PPE)
From disposable gowns and face masks to protective eyewear, gloves, and a face shield, your dentist is taking no chances when it comes to protecting both you and them from possible exposure. Too many dental procedures generate aerosols that can contain contagious airborne particles. To avoid this debris (i.e. saliva, blood) from splashing or spraying upward and into the face or onto clothes, PPE will be worn by all members of the staff and dental team.
While these are just a few of the many new protocols being implemented by dentists throughout the country, it is helping to keep everyone healthy and safe during this uncertain time. If you want to know more about what additional steps your dental professional is taking, speak to a member of the team before your appointment.
About the Author
Dr. Michele Moreno and the team at Alamo Springs Dental understand your concerns when it comes to keeping your dental appointments during this time. Because of the continued threat of COVID-19, you may be wondering what they're doing to ensure your health and safety. Fortunately, Dr. Moreno and her colleagues are going above and beyond to follow all recommended guidelines that are designed to create a cleaner, healthier, and germ-free environment for everyone. To find out what protocols are now in place at our dental office, contact us at (210) 463-9339.