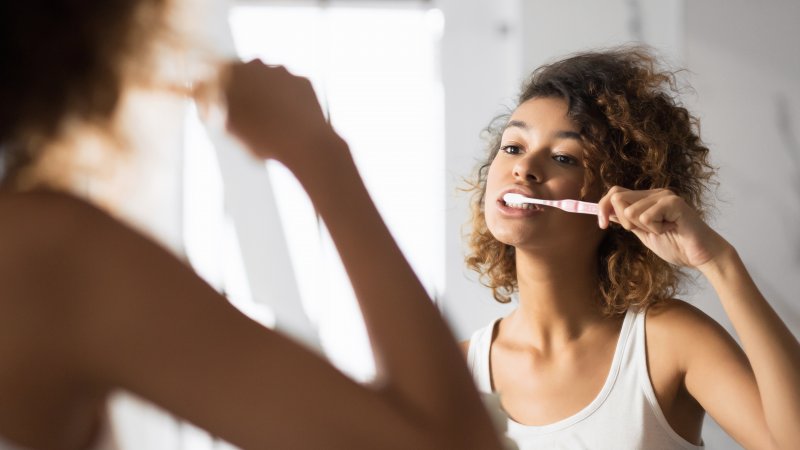 Whether you are practicing social distancing or undergoing self-quarantine, COVID-19 is certainly making life interesting for people throughout the world. Since you are likely staying at home more, and since most dental offices are closed and only seeing emergency patients, you may be thinking about your oral hygiene routine and ways to improve it. If you're wondering how you can be keeping up with your dental hygiene during quarantine, check out these four helpful tips that will give you increased confidence in your ability to maintain a healthy smile.
Make Sure You're Brushing Correctly
Brushing your teeth may not seem like a difficult task, but most people don't realize that there is a wrong way to brush your teeth. Whether you're quickly swiping across the surfaces of your teeth or brushing so hard that you need a new brush every month, you'll quickly begin to notice tooth decay and cavities forming on your teeth.
Take this time to finely tune your brushing techniques by adhering to the following tips:
Set a timer and make sure to brush your teeth for two full minutes.
Use fluoride toothpaste to protect against tooth decay and strengthen the enamel.
Brush your teeth gently. If necessary, consider purchasing an electric toothbrush, as this will do most of the work for you.
Don't forget to brush the backside of your teeth and along your gum line to remove harmful bacteria.
Don't Skip the Mouthwash
Mouthwash is a crucial step in an oral hygiene routine. After removing bacteria and food particles from the surfaces and in-between your teeth with brushing and flossing, an ADA-approved mouthwash will flush away anything that is left behind and attempting to stick to your teeth. This will not only reduce your risk for gum disease and cavities, but it will also leave you with minty fresh breath!
Floss Before Going to Bed
While you are free to floss at any time during the day, you will often see the best results when you perform this task before bed. Why? Because should you choose to forgo this treatment before you go to sleep, anything that is left behind will remain on your teeth for hours, making it easier for cavities to form.
Opting to floss before you turn in for the night will better protect your smile. If you need some tips to perform this task correctly, try these:
Gently move the floss back and forth between your teeth. Never push or pull on the floss, as this can damage your gums.
Don't reuse "old" parts of the floss. Make sure to use a clean, unused section each time you move to a new tooth.
Create a "C" shape on both sides of the tooth to effectively remove bad bacteria.
Don't Wait to Schedule Your Next Appointment
When dental offices begin to reopen, you might find that it is difficult trying to get an appointment when you prefer. Much like other businesses, the initial days and weeks will be extremely busy. Instead of waiting, go ahead and call to schedule your next dentist's appointment. Whether you've missed your six-month visit because of the shutdown, or you have yet to make it, beat the rush by calling your dental team and getting in at the earliest convenient time.
Before you know it, things will be returning to normal. While it might prove difficult right now, trust that your dental team is ready and equipped to take care of your smile when the time is right. In the meantime, don't be afraid to call and ask for help should you inquire about additional oral habits or need immediate assistance for a dental emergency.
About the Author
Dr. Michele Moreno believes in the importance of preventive care. As a dentist in Alamo Ranch who offers family dentistry services, she has dedicated her career to helping others achieve a better quality of life with a healthier, fully restored smile. Dr. Moreno earned a Bachelor of Science in biochemistry from Angelo State University in 2001, graduating magna cum laude. She then went on to earn her Doctor of Dental Surgery degree at Helotes's University of Texas Health Science Center. If you would like to learn more about various at-home oral health habits, or if you suddenly experience a dental emergency, contact us at (210) 463-9339.