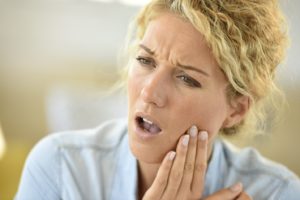 If you have good oral hygiene habits, you may not worry much that something could happen to your teeth. In reality, though, a dental emergency can strike anyone, even folks who are diligent about brushing, flossing, and rinsing. Such incidents could be due to an accident, an infection, or an oral health problem that was present for a long time and suddenly decided to announce its presence. When you find that your mouth is in pain, please don't hesitate to visit your emergency dentist in Alamo Ranch. Getting professional care right away can relieve your agony and save you time and money.
Why It's Important Not to Delay
Dental problems do not go away on their own. In fact, the teeth are the only part of the human body that cannot heal themselves. If you ignore a dental problem or try to delay treatment for several days or longer, the issue is bound to get worse with time. For example, an infection in your tooth might be taken care of with a root canal and antibiotics. However, if the infection is allowed to spread beyond the tooth, it may eat away at your jawbone or cause systemic health problems.
Getting prompt treatment may also save you money. After all, if you visit your dentist in Alamo Ranch early enough that they can save your tooth from an extraction, you will not have to worry about the expense of replacing that tooth later on.
A study found that an estimated 320 million hours of work or school are lost each year because of dental problems. Of course, it is best to prevent such issues in the first place if possible, but if you do end up in the midst of an oral health crisis, the key to getting your life back on track as soon as possible is to visit your dentist for prompt treatment.
How to Identify a Dental Emergency
You know that visiting your dentist in Alamo Ranch as soon as a dental emergency occurs is important, but how do you know if your situation actually constitutes an emergency? Here are a few circumstances that should send you straight to a dental professional:
A tooth gets knocked out or knocked loose
You lose a crown or filling
You have a severe toothache
One of your teeth is chipped or broken
In other emergency situations, such as if you suffer a jaw injury or are experiencing excessive oral bleeding, it may be best to visit the local ER before you see your dentist.
Are you facing a potential dental disaster? Please seek treatment right away — your smile and your wallet will thank you!
About the Dentist
Drs. Michele Moreno and Aiyana Zenobia Anderson are the two talented dentists in our practice. They are both passionate about what they do and are always ready to leap into action to help patients who are suffering from a dental emergency. If your teeth are in trouble, please don't hesitate to contact us at 210-463-9339. Or, you can just stop by our office — walk-ins are always welcome!