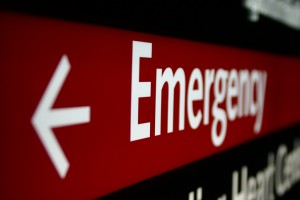 You were enjoying a fine holiday dinner until you accidentally bit into a piece of bone, and suddenly you spit out your tooth. You and everyone around panics. You're bleeding quite a bit, so should they rush you to the emergency room? It's very tempting, but you should actually avoid the ER  and immediately call your dentist near Stillwater Ranch at Alamo Springs Dental. Here are a few reasons why.
1. Training and Experience
If you find yourself in a dental emergency, you won't be able to get the kind of specialized care that you need in an emergency room. The staff there will usually consist of nurses, physician assistants, and doctors. Many of them will have a general knowledge of how to deal with a dental emergency, but will probably have very little training (if any) when it comes to actually repairing teeth. Dr. Michele Moreno and Dr. Aiyana Zenobia Anderson have the training to deal with this exact type of situation. They'll be able to stop the bleeding, alleviate your pain, and repair your teeth quickly.
2. Wait Times
A broken or knocked out tooth can be very uncomfortable, but it is often not life threatening. Many of the people who are rushed to the emergency do have life threatening injuries, and this means they will be put ahead of you. This would force you to wait for hours while you are in pain. The team at Alamo Springs Dental, however, will always try to see you as soon as possible when you have a dental emergency, and let you know exactly what to do in the moment. Speaking of which…
3. First-Aid
The team at Alamo Springs Dental is able to help you in the moment of your dental emergency before you can make it to the office. They'll be able to tell you how to stop your pain, lower the risk of infection, and preserve your tooth until you can come into the office. You don't have this option with the ER. The first few minutes after you experience a dental emergency are extremely important, and we're able to tell you exactly what to do.
4. Safety
Emergency rooms are often crowded with people suffering serious injuries and diseases, and this can expose you to germs and bacteria that can cause you to get sick. You simply won't have to deal with that at our office. We always provide a sanitary and safe environment to assure your health.
When To Go To The ER
There are a few situations, however, where you should go immediately to the ER. If you have other injuries such as broken bones, or are bleeding profusely and can't stop it, head straight to your local emergency room.
Any Questions?
Alamo Springs Dental is able to offer you the specialized emergency care near Stillwater Ranch when you're in a dental emergency. We have the training and the experience you simply won't find at the ER, and that can make all the difference in saving your smile.
If you'd like to know more about what you should do in a dental emergency, or how to avoid one altogether, please give us a call today.